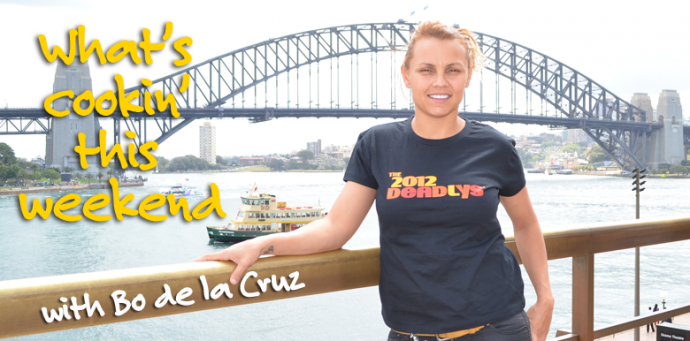 She's our 2012 Deadly Female Sportsperson of the Year. She's a national champion, a former Northern Territory sportsperson of the year, World Cup player and triumphant Australian women's Rugby Sevens team member. Her achievements are many and deserved.
Bo de la Cruz is a role model and mentor in the truest sense of the words but she also has a passion for Burritos. Her recipe for Chicken Burritos is both tasty and healthy.
Ingredients
500g chicken thigh fillets
1 Old El Paso Burrito kit – look for the 'Healthy Fiesta' one that's low-fat/salt (includes tortillas and Mexican seasoning and mild salsa)
1/2 block of light & tasty cheese, grated
1 bag of spinach leaves, washed
3 tomatoes, finely chopped
1 avocado, peeled, cubed
1 small tub of light sour cream.
Method
1. Cut up chicken into small pieces. Put chicken and Mexican seasoning into a clean plastic bag and shake it until the chicken is covered with seasoning.
2. Cook the chicken in a frying pan or electric frying pan for 12–15 minutes or until cooked.
3. While it's cooking, put the cheese, spinach, tomatoes, avocado and mild salsa sauce in separate bowls; you can leave the sour cream in the tub.
4. Heat up the tortillas in the microwave and fold 'em up.
How to fold a burrito
1. Put a teaspoon of sour cream on a tortilla and use the spoon to spread it around.
2. Add chicken in a vertical line down the tortilla; leave a bit of space at the bottom to fold the tortilla later.
3. Place cheese on top of the chicken (the cheese will melt on the hot chicken).
4. Add spinach, tomato, avocado and salsa, but not too much or they'll fall apart when you roll them.
5. Fold the bottom of the tortilla up over the filling. Fold in the left side, then the right side. Make sure it's tightly rolled so the filling doesn't fall out.
6. Eat them! If it's a training day, you can get away with eating four burritos! Yum!