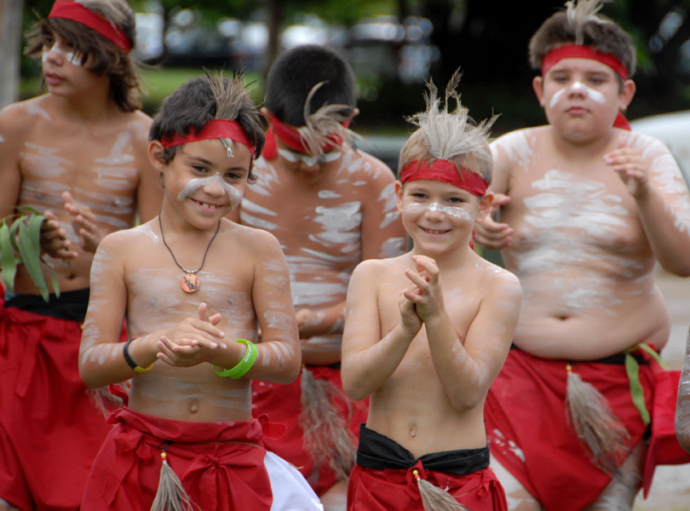 Aboriginal band OKA will headline the 2014 Booin Gari Indigenous festival, supported by hugely popular local band The Floating Bridges.
Booin Gari will be held on Tuesday, April 8 from 10am to 2pm celebrating Indigenous culture and heritage on the Sunshine Coast.
Booin Gari, means Come This Way in Gubbi Gubbi language and is an opportunity to build positive relationships and share in local Indigenous culture. This is the seventh year the event has been hosted by United Synergies and continues to build momentum year on year.
In addition to performances by OKA and The Floating Bridges, the day's line up will feature a range of guest presentations from local community artists and performers as well as yarning circles and workshops incorporating silk art, ochre painting and gratitude rock painting, cultural demonstrations on cooking a kup murri (and tastings) and a boomerang making demonstration.
Renowned Sunshine Coast artists Jandamarra Cadd and Peter Mulcahy will both host free Indigenous art workshops.
OKA and the Floating Bridges will perform on the main stage from noon. With a national following, OKA draws upon their Indigenous connection to place and country through music. Their signature sound is a blend of influences spanning house, big beat, reggae-dub, roots, jazz and world music.
Formed by a group of schools friends on the Sunshine Coast, The Floating Bridges is a funk, roots, rock, reggae outfit which also has achieved national acclaim.
Other highlights at Booin Gari this year will be a visual arts exhibition of works from acclaimed local Indigenous artists and new talent, on display at the nearby Noosa Regional Gallery.
Support services will provide displays and be available to assist with information. All activities, performances and food on the day will be free.
United Synergies CEO Christopher John says Booin Gari provided an opportunity for local Aboriginal young people and their families to come together and celebrate their culture, but also to share it with the broader Sunshine Coast community.
"The key purpose of the event is to provide an annual forum for celebration, connection, engagement and sharing of knowledge, history and culture amongst community members," he says.
The event is now entrenched as an annual event on the Sunshine Coast calendar with attendance numbers continuing to grow each year. It provides a valuable opportunity to connect non Indigenous and Indigenous young people, families and service providers in a respectful and positive environment.
Booin Gari will be hosted by United Synergies at its 14 Ernest Street, Tewantin premises between 10.00am and 2.00pm. Limited disability parking will be available on site and bookings can be made by telephone 5442 4277, with courtesy shuttle buses also available from the nearby Noosa Sports Complex car park. Transport and parking updates can be found on their Facebook page.