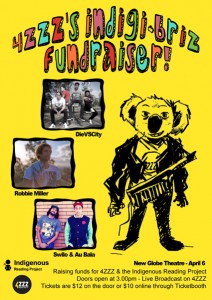 On April 6 at Brisbane's New Globe Theatre a line-up of some of Australia's best musical talent will put on a show to raise desperately needed funds for the Indigenous Reading Project and 4ZZZ community radio
Hosted by 4ZZZ's Indigi-Briz radio show, the event aptly dubbed '4ZZZ's Indigi-Briz Fundraiser' will be headlined by none other than hip-hop group DieVsCity, and also feature Triple J's Unearthed winner Robbie Miller and local hip-hop duo Swilo & Au Bala.
The Indigenous Reading Project is a small, non-government, not-for-profit organisation that strives to improve the reading ability of Aboriginal and Torres Strait Islander youth. They are reliant completely upon donations.
Indigenous Reading Project CEO, Daniel Billing, says that the event will hopefully help raise some much needed funds so that the organisation can continue the work it does; which is proving successful in boosting literacy levels.
"The funds donated from Indigi-Briz's event will give the program a boost to continue the vital education work we do," says Daniel.
"Last year's figures showed excellent results, the average amount of time spent reading was improved by 102.1%, fluency tests improved by 24.39% and comprehension tests improved by 57.14%."
The event organiser and host of Indigi-Briz, Kristy McMahon, says the event is not only a night of exciting musical performances but also addresses an issue that is rampant among Aboriginal and Torres Strait Islander youth.
"It's about helping these kids to understand that it is important to go to school and make them excited about it. Wagging and everything is so prominent; so what we need to do is give these kids the extra support they really need," says Kristy.
"This project is close to my heart and I'm proud to be a part of this fundraising opportunity to help improve the lives of so many Indigenous Australian students."
Kristy says that having the backing of artists like Robbie Miller should help draw in crowds who are not only passionate about music but helping out fellow Australians.
"Robbie's been doing quite a few shows around Brisbane so having someone like him who's so excited to be performing at this event and fully supports the fundraiser for the project and 4ZZZ is great," she says.
"I think we'll get quite a few people along."
Doors open at 3pm and Indigi-Briz will broadcast the event live. Tickets are only $12 at the door or $10 through ticketbooth. For more information or to purchase tickets CLICK HERE.