The journey of a potent Aboriginal spirit alive in Australia's past and present will grace stages across Australia in Bangarra Dance Theatre's latest production.
This powerful new work will see audiences meet Partyegarang, who is described as a young Aboriginal woman of intense and enduring courage, and an inspiration today for instigating respect of Aboriginal knowledge and language.
As the colonial fleet arrived on Eora country in the late 18th century, Patyegarang befriended Lieutenant William Dawes, gifting him her language in an extraordinary display of trust and friendship, which now inspires our imaginations about 'first contact'.
Staying apart from the early Sydney settlement in a place called Tar-ra (now Dawes Point), Dawes, an astronomer, mathematician and linguist, faithfully recorded his encounters with Patyegarang in his notebooks. Rediscovered in 1972, these notebooks are transcripts of this remarkable cultural exchange.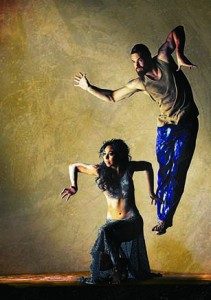 Patyegarang's words are a window into a rich, complex and utterly different view of her world, its values and its sacred meanings.
"Patyegarang is a story that has been lingering in my mind for a long time. This young Aboriginal girl was from the Eora nation, the custodians of the land on which Bangarra has created and performed dance theatre works since 1989," Artistic Director Stephen Page says.
"In the year of the company's 25th anniversary, Bangarra honours the Eora through Patyegarang's story, celebrating the significance of this place and its First Peoples. Through discussions with local communities, and thanks to an ever-inspiring team of designers, story tellers and dancers, this story gives us an opportunity to reflect on our future as a new nation."
Patyegarang marks the first time that Bangarra has told a specific Sydney story. The performance features Artistic Director Stephen Page's distinctive choreography and is based on true, historical events and documents.
Patyegarang celebrates Bangarra's unique ability to tell stories through the prism of our contemporary experiences, enriched by our shared story.
The role of Patyegarang will be played by Bangarra dancer Jasmin Sheppard who joined the company in 2007 and has performed in eleven Bangarra productions internationally and nationally.
The performance will be travelling to capital cities all around Australia throughout June, July and August. Tickets are on sale now for the five locations which include; the Sydney Opera House, the Canberra Theatre Centre, the State Theatre Centre of Western Australia, Queensland Performing Arts Centre and the Arts Centre Melbourne.