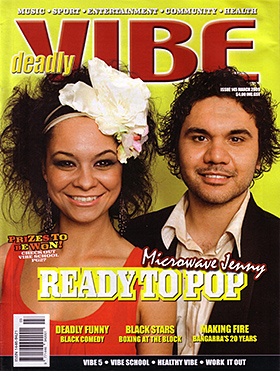 From performing on the back of a ute at Kempsey to being heard around the world, Microwave Jenny are on a fast track to success.
After seeing Microwave Jenny perform on the back of a ute at a Vibe 3on3 festival, Vibe's Managing Director Gavin Jones promptly booked them to appear at the 2008 Deadly Awards in Sydney. Their performance, which was broadcast live on national television, national community radio and streamed live online all over the world, proved to be the catalyst for the duo's quick rise to fame.
Microwave Jenny pair Brendon Boney and Tessa Nuku, both 21, often finish each other's sentences and are pretty happy with the way things have turned out. "It was insane," Brendon says. "We got a lot of hits on our MySpace page." Tessa adds: "Yeah! We were like woo hoo!"
Tessa grew up on NSW's Central Coast and Brendon grew up in Wagga Wagga. When they met three years ago at rehearsals for the Schools Spectacular in Sydney's Redfern, the musical chemistry was undeniable. Tessa says she was backstage playing the piano when Brendon approached her: "I thought, 'That dude thinks he's so hot. Who is he?'"
"We jammed together for a long time before we even said anything," Brendon says. "I knew I'd see a lot more of Tessa, and that she had no idea we were gonna hang around each other at all."
The pair then met up once a month to play for the Talent Development Project (TDP), eventually forming a duet and touring.
In the past year, they've performed with big-name artists like Diesel, Michael Bublé, James Blunt, Margaret Urlich and Paul Kelly and at community events like Sydney's New Year's Day celebrations. They also play regularly at the Art After Hours program at the Art Gallery of New South Wales, and at Lizotte's restaurant performance venue in Kincumber, NSW. Earlier this month, they performed at Perth's Nannup Music Festival, and in June you can see them in Queensland at the Woodford Folk Festival's 'The Dreaming'.
The sweet melodies and lyrics of their jazz/folk sound have strong old school musical influences, from the Little River Band, James Morrison, Bill Withers, Van Morrison, Janis Ian and Joni Mitchell.
Brendon says their music is so broad that it's really hard to describe but explains it as "positive and spirited with honest, sincere lyrics and contagious melodies".
Regardless of how they're described, the pair's musical talents, song-writing ability and unique chemistry make Microwave Jenny stand out. It's a winning combination of Tessa's sweet and often quirky voice, music that makes you want to get up and dance, and conversational lyrics that are easy to relate to.
"We write a lot of the lyrics together," says Tessa. "It's a pretty tough process but we usually try to be conversational rather than poetic," says Brendon. "Yeah," says Tessa, "we try to keep it simple."
And the name, Microwave Jenny? Brendon and Tessa were watching the Australian film The Castle on television one day, when the name came up.
"It was pretty spontaneous wasn't it?" Brendon says to Tessa, as they both start acting out the scene in the film, where Trace is brushing her mum Sal's hair :
Brendon (Trace): "Do you know Jenny?"
Tessa (Sal): "Jenny, Jenny?"
Brendon (Trace): "No, Microwave Jenny."
Microwave Jenny has just released their first EP, featuring five tracks that you can download from their MySpace page. "Trying to get this EP happening has taken more than a year, Mr Man in the Moon was recorded years ago," says Brendon. "But we're pretty happy with how it sounds and looks as a package. It's something I'm pretty proud of."
"It's like our little baby," says Tessa.
They may be aligned musically, but Brendon and Tessa spend their days off in different ways. "I dig a movie," Brendon says. "It sounds geeky, and everybody should be getting out and getting active, but I love a good flick. I love a good choc-top, Maltesers… and I love me some Johnny Depp. Not in a gay way but in a, hey, I wanna be you kind of way."
"I love a day at the beach," Tessa says, and you can hear her influence coming through in the lyrics of their song 'Summer'.
It may seem like Microwave Jenny are having dream run but the pair are realistic about the music industry and their place in it.
"It's a really hard industry to get into," Brendon says. "All of the challenges and criticism are pretty daunting, but if you love it you shouldn't have any trouble sticking to it."
Tessa has the final word, summing up their innate optimism: "Never give up. You've just gotta keep going."