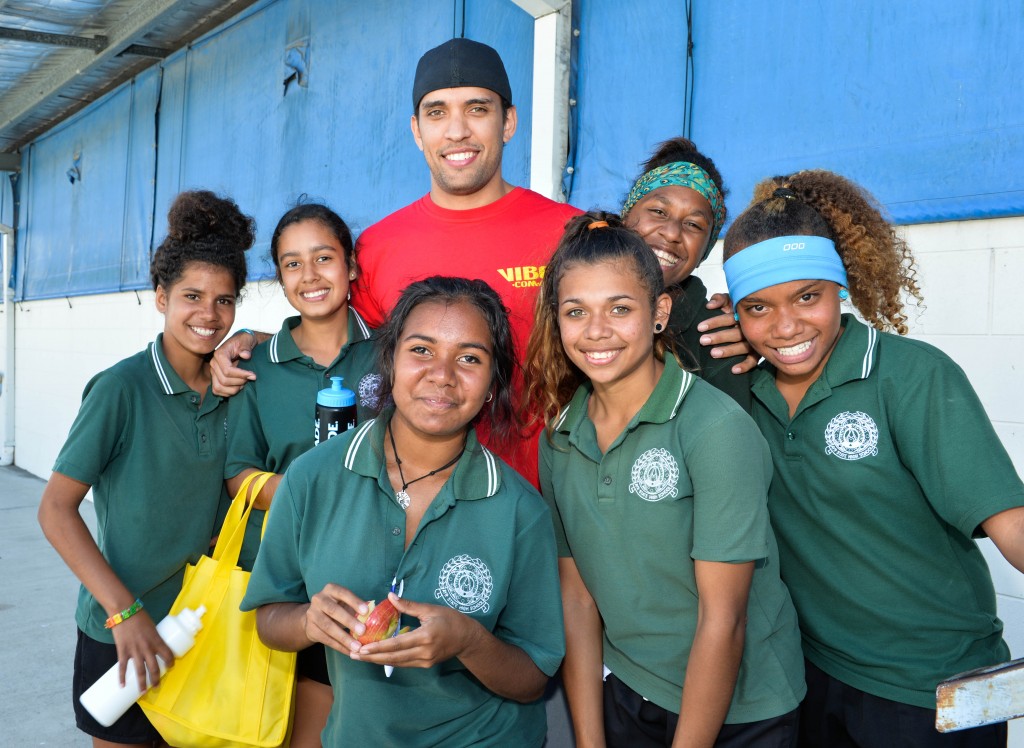 Hundreds of enthusiastic students enjoyed a day full of activities and learning how to maintain a healthy lifestyle at Townsville's first ever National Indigenous 3on3® Basketball and Hip Hop Challenge on Tuesday.
Students from Townsville and across the region, from as far as Ayr, participated in Townsville's first 3on3 at the Townsville Murray Basketball Stadium for a day of 3on3 basketball, rapping and break dancing lessons, art workshops, a dance competition and a health expo.
For event producer Mayrah Sonter the day was fueled by the generous support and effort from all involved.
"It was an awesome 3on3. The first time in Townsville and we had a great venue. The role models were wonderful and really interacted with students – our health role model Michael Cedar who plays for the Townsville Crocodiles was a huge hit," she says.
"As were Zac Santo and Samson O'Neil (Under 20s North Queensland Cowboys) who did football drills with the students."
Special guest role models were Matty Bowen and Ray Thompson from the Cowboys 1st Grade team, who were on hand to present medals to the winning teams.
The Move It Mob Style® dancers were a success and the students had all heard about, or watched the NITV and ABC3 dance-based, health and music show.
Rapper Naomi Wenitong of The Last Kinection was also there to inspire students to go after their goals and achieve their dreams.
Mayor of Townsville, Jenny Hill, attended the Opening Ceremony along with Federal Member for Herbert, Ewen Jones MP.
"It really was a fantastic day. Basketball is very popular in Townsville and we had a lot of talented role models attending the 3on3," she says.
Mayrah thanked the local sponsors, which included the Department of Aboriginal and Torres Strait Islander Multicultural Affairs, Brumby's Bakery, Woolworths Fairfield Central and Coles Annandale.
"We would like to send a big shout out to local committee for all their support as well as to all of the volunteers, students, teachers and health representatives who participated," she says.
The Vibe 3on3® would not be possible without its Principal Sponsor the Department of Health and Ageing as well as our sponsors – the Department of Regional Australia, Local Government, Arts and Sport, Headspace and Australian Government – Closing the Gap and our supporters the Jimmy Little Foundation, Koori Mail, Deadly Sounds, Deadly Vibe and vibe.com.au. For news, stories and information on Closing the Gap, visit indigenous.gov.au.