Flashback – Deadly Vibe Issue 112, June 2006
When Jonathan Thurston ran onto the field late in the first half of last month's Anzac test, he received a thunderous reception from the Queensland crowd. And why wouldn't he? After an amazing 12 months that have seen him take the league world by storm, Jonathan is the code's "wonder boy" and, in a match where the Kangaroos exacted sweet revenge against their arch rivals the Kiwis, he played a starring role on debut.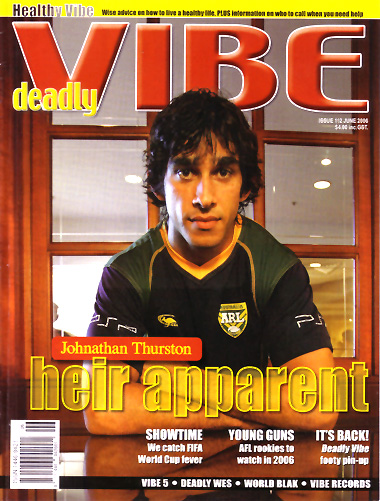 "The whole experience was very exciting," Jonathan says. "It was also a great learning experience. When I ran out onto the field, there was a massive cheer from the crowd. That was pretty special."
After leading the Cowboys to an appearance in last year's Grand Final, Jonathan came out firing on all cylinders in 2006, taking his game – which has already earned him some major honours – to a new level.
In the weeks leading up to the announcement of the team, the media went into overdrive, sensing a major controversy brewing, concerning the selectors' habit of picking incumbent players. This meant the possibility that Jonathan, the league's most in-form player, could be left out of the side. And while the entire league world knew that Jonathan more than deserved to be there, we in the Indigenous community knew all too well that deserving a spot doesn't always equal getting one.
So when the word came down that Jonathan had indeed been selected, we all breathed a collective sigh of relief. "I was very overwhelmed when I got the news," Jonathan says. "It was a bit of a relief as well, because there was a lot of talk going around at the time."
Rarely has there been so much public and media pressure applied to the selection of a Kangaroos squad as there was in the lead up to this year's test, and rarely has there been such a concerted public outcry for a player to get what he so deserved – a spot on the team.
"It was something I tried to not think about," Jonathan admits "It was pretty hard, though, because I was in the paper a fair bit. So I didn't read the papers or watch the news. I tried to just keep my mind off it."
Once selected, Jonathan continued to dominate the headlines. Andrew Johns, the game's greatest players, even came out and stated during the team's preparation that he considered Jonathan to be his natural successor as the Australian half back.
"Yeah, I was a bit shocked by it," Jonathan says. "You know, to get a rap like that from Joey was a great thing. I was a bit overwhelmed with it."
At only 23, Jonathan has already played State of Origin football with Queensland, played in two Grand Finals and won the game's greatest individual accolade – the Dally M award. But for Jonathan, his debut for Australia ranks as his greatest ever achievement.
"It's definitely the highest," he says. "There's no higher honour than representing your country."
With his continued success on the field, one major thing he is slowly growing accustomed to is the intense media and public scrutiny that comes hand-in-hand with being one of league's biggest names. Rugby league players are just about considered public property these days, and being under such an intense spotlight is something that takes a bit of getting used to.
"The last 10 to 12 months have been a bit of a learning curve for me," Jonathan admits. "With the media, I've received a lot of attention and I'm still learning about the proper ways to answer questions and how to talk to them.
"But it helps being Townsville, because we're away from most of the papers in Sydney."
With the Australian cap now in his bag, it will only help the development of Jonathan's game. With his confidence soaring, this boy from Mackay is primed to play a crucial role in this year's State of Origin series with the Maroons.
And then there are the Cowboys – the best performing team in the NRL so far this year, and hot favourites to make a return to the Grand Final.
"We're not looking that far ahead, Jonathan says. "Our goal is to play semi-finals footy – that's what every team wants. We're just taking it game by game."
No longer simply a player touted as having the potential to do great things, Jonathan is now doing them. He is fulfilling all of his potential and exceeding many expectations in the process. The most exciting thing about it all? He's only 23, and will only get better. That's exactly why Andrew Johns had no hesitation making those statements, and it's also why those fans at Suncorp Stadium were cheering so loudly.
Because when Jonathan Thurston takes the field, people know that they're watching the future of rugby league.