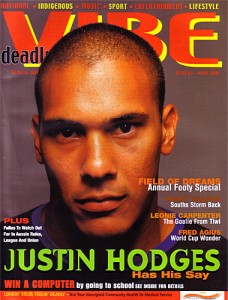 He weathered the storm that erupted around him with dignity and sportsmanship. Now wearing the red, white and blue of Sydney Roosters, ex-Broncos Justin Hodges talks candidly with Deadly Vibe about his game, his goals and that dressing-down.
If you're on the lookout for rising talent in this country, you could do worse than head for tropical Cairns, gateway to Far North Queensland. Local girl duo Shakaya have just been named as support for Destiny's Child's Australian tour. The newly formed Cairns Taipans are hooping strongly in the National Basketball League. And then there's home-grown league star Justin Hodges.
Justin made his first-grade debut with Brisbane Broncos last year when he was just 18. But after the club failed to re-sign him by the 30 June deadline, the young wing was forced to consider other options. Sure enough, the Roosters came knocking and Justin happily signed a three-year contract, much to the immediate chagrin of Broncos coach Wayne Bennett.
The ensuing controversy raged for quite some time, with the media digging in behind Justin, who wisely kept silent throughout. Now it's a new season and the embattled player is happy to be back on the field doing what he does best. Nevertheless the question remains – just who is Justin Hodges and what makes him tick?
Born in Cairns on 25 May 1982, Justin is the youngest of three boys, all of who were into their sports. He recalls his first game of rugby league with older brothers Clinton and Desmond. "I was five years old or so when I first played. I remember I had the ball and I ran the opposite way! We used to play in the backyard every day after school."
From the very beginning, Justin's family supported him as a footballer. His mother would often turn up to cheer her son on from the sidelines, while his father, a fixture in the local league competition for 14 years, taught him everything he knew about the game.
Justin realised he had the potential to take his football to the next level when he began winning selection on representative sides. "I played for Trinity Bay High School in the Coca-Cola Cup, which was a state competition. Most of the side was made up of blackfullas, which was good. We ended up winning."
The right people were obviously watching from the sidelines, because Justin was soon offered a four-year contract with the Broncos as a development player, which he accepted. Leaving school at 16, Justin worked as a storeman for six months. But his heart was out there on the field with the flying ball and the roar of the crowd.
He continued to train hard and in 1999 was selected to play for the Australian Schoolboys rugby league team in New Zealand. The following year he toured Ireland, England and France with the Schoolboys as a fullback. Also on that team was another up-and-coming talent, Arthur Little, who has since gone on to play first grade rugby for Randwick.
Returning home, Justin was invited to play for Wests Colts in Queensland's U/19 state league, the equivalent to first division in NSW. At the time, Justin felt as though he'd reached a plateau with his game. But Broncos coach Wayne Bennett seemed to think differently.
"I'd had a couple of good games but I didn't think I'd be able to go the next step. One day during training Wayne approached me and said that if I played well this week he would consider putting me in the Toowoomba Clydesdales. So I had a good week and got the phone call from Wayne a couple of days later."
After playing just a few games for the Broncos' feeder club, Justin was promoted to first grade at the start of the 2001 season. His dream of playing in first grade had come true at a very young age and he was improving with every game.
But as we all know, 30 June came and went and Justin was given no indication as to whether the Broncos wanted him to re-sign. Accordingly, Justin's manager Jim Bennigan was approached by Sydney Roosters to see if he would be interested in playing for them. Unsure about his future, Justin decided to accept a three-year contract with the Roosters rather than hang about in limbo. He then rang his coach to let him know.
"The next morning I turned up for training and Wayne told everyone I was leaving while we were in the dressing room. Then we all got up to go out and train and he said, 'Oh no, not you. You can go back and train with your Toowoomba boys. You're no longer in the top 25 and you're no longer playing for the first grade side.'"
Such an antagonistic way of handling the matter was bound to have repercussions – and it did. The media had a field day over the incident and jumped all over the coach for his decision and the way he effected it. In turn, the coach forbad any of his players from talking to the media. Although he was disappointed about what had transpired, Justin was reassured by the fact that he hadn't done anything wrong.
"It was good to hear that everyone thought that Wayne did the wrong thing," he says. "It allowed me to hold my head up high, knowing that I did nothing wrong. I didn't talk to any other club until the deadline was over and Wayne was the first person I rang when I made the decision."
Understandably, Justin found the intense – if mostly sympathetic – glare of the media a bit daunting. "It was pretty hectic at the time and suddenly everyone knew me, so I just lay low. My manager helped me through it, telling me who to talk to and who not to talk to. Sometimes the media can turn things around and make you look like a bad person."
While Justin was sad to leave his family, who now reside in Brisbane, the relocation south was certainly eased by a stay at league legend's Arthur Beetson's house. Now living in Maroubra, Justin, a keen surfer, likes being close to the sea and heads for the beach at every opportunity.
His first game with the Roosters against Souths on 15 March was something special indeed. "Running out there in front of 35,000 people was amazing, it was just a great buzz. And when Souths ran out the whole crowd went off, especially when Russell Crowe came out and they rang the bell."
Currently sitting in the top five, Justin believes the Roosters can go on to win the premiership. They can certainly boast a good blend of youth and experience, with an average age of 22. They also have good coaching staff in head coach Ricky Stuart and assistants Dean Pay and John Cartwright, all former Australian players.
Now having played with both teams, Justin is confident that he made the right decision in becoming a Rooster. "At the Broncos I was a bit nervous and didn't really feel like I could do much. I was on the wing and I felt pretty intimidated by them all. At the Roosters, guys like Freddie (Brad Fittler) make you feel a whole lot better. I don't have to worry about making a mistake like I did at the Broncos and I'm a lot more confident now."
Justin likes to go into a game hungry, saying he's more aggressive on an empty stomach. Needless to say, a consistently healthy lifestyle is a key ingredient to his success. "I sacrifice a lot – I don't smoke, I don't go out drinking much, and I make sure I eat healthy food all the time. Late nights are a thing of the past once you're a first grader."
Arguably, every first grade player is an ambassador for the sport and this young Rooster doesn't take his duties lightly. "When I attend a function or event I always turn up early and I'm always respectable. You have to do the right thing by yourself, especially with alcohol. As soon as you know you've had enough, get out. Care about yourself first."
Standing one inch over six feet and weighing 100kgs, Justin is above average size for a centre. He knows he has a long way to go before establishing himself as a quality first grade player, and is concentrating on being more consistent defensively. But he has good upper-body strength, a strong fend and plenty of speed. Not to mention determination.
"I have three goals I've set for myself," he says. "The first is to establish myself in first grade. The second is to win a premiership, and the third is to play State of Origin for Queensland, and for Australia."
Vibe wishes Justin all the best in achieving those goals over the coming years.