This week on Deadly Sounds radio show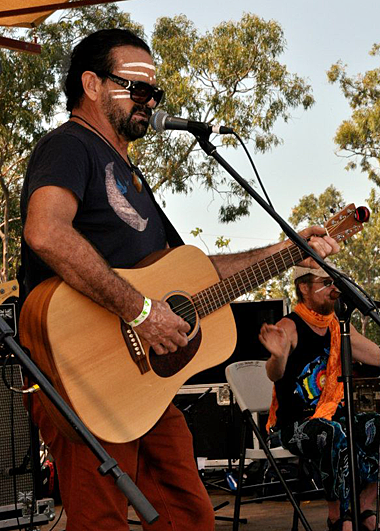 Born and raised on the Koonibba Mission on the edge of the Nullarbor, Bunna Lawrie has been the lead singer of one of Australia's most popular bands, Coloured Stone for 25 years.
This week on Deadly Sounds, Rhoda Roberts caught up with the humble man to talk all things music, culture and whales.
Learning the hard way
"A lot of bands like Warumpi and Coloured Stone wrote about our experiences in life and growing up in missions and communities, and learning the hard way," Bunna says.
"Knocking on doors and against all odds you know… the wall of racism and discrimination and not letting us in, the colour of our skin and them days were like, wow."
Last chief and songman
Coloured Stone's music has played a variety of roles in the lives of Aboriginal and Torres Strait Islander people and communities – from saving the whales in the Mirning country, to spreading anti-discrimination messages.
"Well I had to help because of my grandfather Mickey Free – he was the last chief and song man for that country," Bunna says of the whales.
"The journey of Jiddara the great white whale … it's my duty also; my people's duty to carry out that story and that songline of Jiddara the great white whale which goes for something like 350kms across from the Bight, from one end to the other.
Our responsibility to share our story
"The journey is the creation that created man and sea for our people. Our Mirning people and our stories evolved from the creation of this great white whale, which came from the great Milky Way in the stars above them, and the seven sisters. Our responsibility is to share that story and to look after the country."
Bunna also made a film about the dreamtime story about the whale, creating awareness about how endangered many of the whales were. The film itself took 16 years to make.
"One of the ladies that was in the film – she's a Maori woman – she's from that tribe the whale riders. She came up to our country and spoke out to support us as well because she knows what position we were in," he says.
Tune in to hear the whole interview
To listen to the full interview, scroll down and zoom in to the map to find your local broadcast and tune in to this week's episode of Deadly Sounds on your local community radio station.