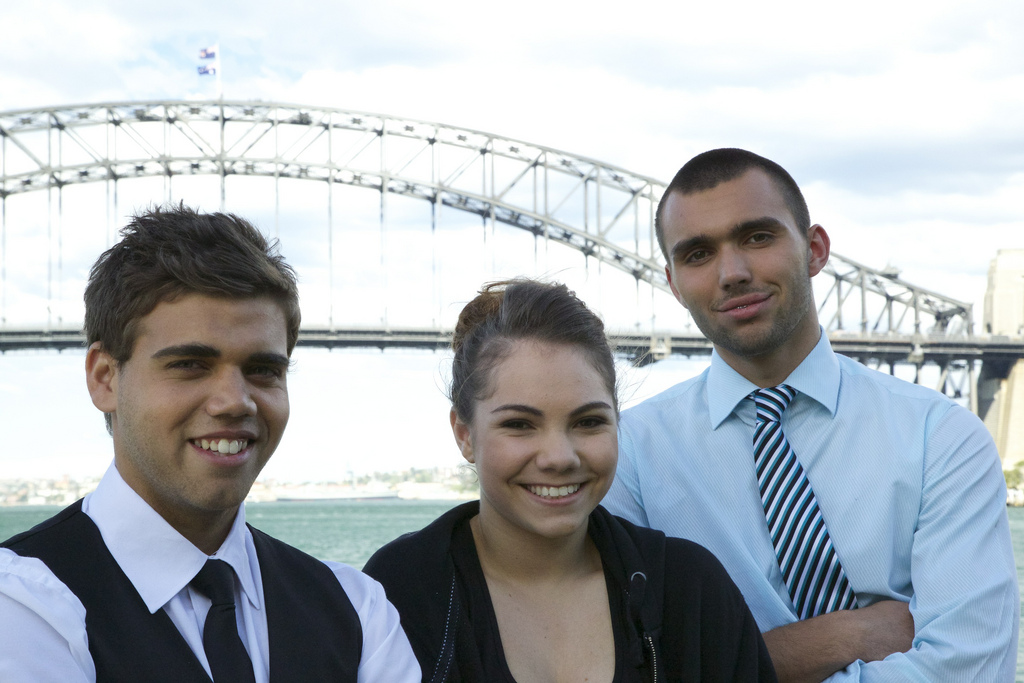 pictured left to right – Shannon Hart-Cole (3rd), Mikayla Hollows (10th) and Jayden Gerrand (2nd)
In a country with an abundant amount of talented, passionate, intelligent and infinitely deadly Aboriginal and Torres Strait Islanders, the day we see an Indigenous PM is inevitable and hardly a pipe dream – an initiative by AIME has reinforced this.
The Other Election is an innovative program that featured 646 Aboriginal and Torres Strait Islander young people in years 10-12 delivering what would be their inaugural speeches as Australia's first Indigenous Prime Minister.
With over 70,000 votes cast, Danae Haynes, Jayden Gerrand and Shannon Hart-Cole are the top candidates and will deliver their speeches to the nation's leaders at Parliament House later this year.
In just two hours they wrote, rehearsed and recorded their speeches touching on subjects such as equality, overcoming obstacles and negative stereotypes.
"If over 600 Indigenous kids can write, rehearse and record their vision for Australia in just two hours; if a little mentoring program that started with 25 kids in Redfern and ran off the smell of an oily rag can grow to work with 2,000 kids across the nation; if we can see Indigenous kids finishing school at the same rate as every Australian kid and shattering the mould that has been cast for them, then just imagine what's possible," says AIME CEO, Jack Manning Bancroft.
The top 10 candidates attended workshops last month where they were mentored by experts in the industry, with Danae Haynes taking out first place.
Young Noongar man from Perth and second place winner, Jayden Gerrand is looking forward to addressing Parliament and says the program has not only inspired him but also boosted his confidence.
He was mentored by AIME National Presenter and former AFL star, Malcolm Lynch and directed his speech to the underdogs, daring them to dream big.
"This speech is for the dreamers. For our everyday heroes who never get that pat on the back. For that kid without a house, dreaming of a better tomorrow," says Jayden in his speech.
"This is our moment. No matter how tough the challenge, no matter how high the mountain or how large the obstacle, we can overcome! We will overcome! Let's search for greatness, because greatness starts from within. If you dare to dream, I will stand with you."
Jayden became involved through his school, Trinity College in Perth and said that he does believe he will see a deadly PM in his lifetime and this will represent unity.
Before entering The Other Election he also said that a career in politics had never crossed his mind but now he will definitely have a think about entering the field.
"It would show that we are bringing the nation together as one and finally the divide of black and white Australia has ended," he says.
"We have to try and break the barriers that have been set up for us, put ourselves out there and show everyone that we can work hard."
In third place, Shannon Hart-Cole from Warnbro Community High School will also be delivering his speech at Parliament.
Shannon was mentored by Channel V Presenter, Billy Russell and delivers messages of equality, cultural awareness, health and freedom in his speech.
"I believe that we should all have the freedom of choice, the freedom of speech and the freedom to live however we choose to live," Shannon said in his speech.
"Because I'm Indigenous, I know what it's like to live in Australia when it's not always free, equal and fair. Last Australia Day I was walking back from the beach when a car load of people pulled up next to me and my friends and swore abusive language and racial comments at me because I'm Indigenous. I believe that's not good enough.
"I believe we deserve better. I believe it's time for something new, something fresh and something deadly!"
AIME works around Australia providing mentoring and educational services for Indigenous high school students to see them get through at the same rate as every Australian child.
In 2013 AIME is working with 2,000 Indigenous high school students and plans to reach 10,000 students annually across Australia by 2018 – roughly one quarter of the Indigenous high school population.