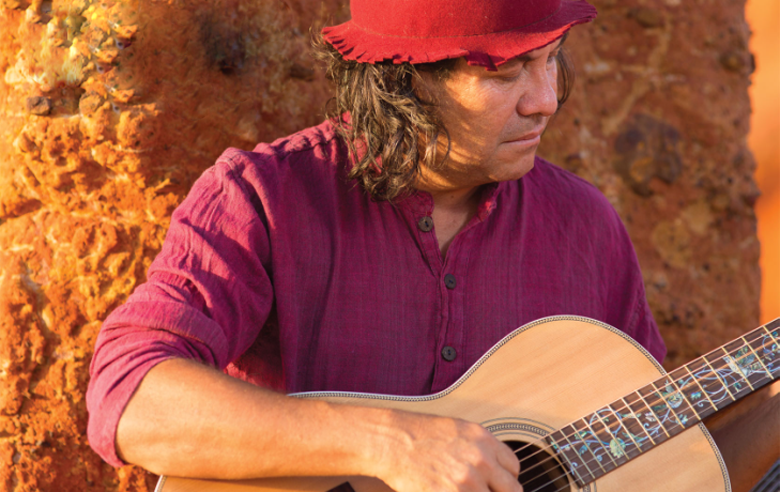 Deadly Sounds recently caught up with Stephen Pigram of the Pigram Brothers, who's just released a new album 'Wanderer'.
Deadly Sounds (DS): Stephen Pigram has found himself a great spot, possibly under a mango tree to join us and talk about his new album 'Wanderer'.
Stephen Pigram (SP): Good to be here.
DS: I'm sure everyone knows who you are but let's do a bit of a background. The Pigram Brothers first came to our attention with 'The Kuckles' and then there was quite a few little bands like 'Scrap Metal'. It was working on the 'Bran Nue Dae' musical that you got that national attention.
SP: As far as musical theatre goes it was definitely a first, up until then we'd played in bands in hotels and the pub circuit but that was the first time we got to really showcase our music in 1990.
DS: 1990, what an extraordinary few decades it's been. A lot of people may not know this but at the second national black playwrights conference in 1989, at Macquarie University, Jimmy Chi travelled from WA and he had entered the playwriting workshop with 50 songs and they were developed during that playwright's workshop under the direction of Lydia Miller, and with the Aboriginal National Theatre Trust, and of course 'Bran Nue Dae' was born.
It was such an extraordinary musical and went on to become a great feature film with Ernie Dingo and many other performers such as our Jessica, Dan Sultan and quite a number of people from Broome. Stephen you're very special in Broome aren't you?
SP: Yeah, it was definitely a long journey for 'Bran Nue Dae', we were in 'Kuckles' in 1981 and Jimmy was there with us and a lot of the songs that ended up in the play and film were written at that really early time. I think it was a great help for Jimmy to actually go to the workshop and develop it a bit more.
DS: It's so relevant even today. 'Wanderer' is really wandering from father to son, now this has been nearly 50 years.
SP: I feel like I've done a full circle musically and coming back to doing a solo album is how I started, when I was 15 – 16 and completing school. I got sent to Perth when I was 12, it was a good experience but towards the end I was starting to miss the place, but I found music. The blues was a big revelation when I discovered how to read music, I started to crack the codes of the songs and that sent me on the road to wanting to play music. I've come back to that very first time where I enjoyed playing the guitar and writing songs.
DS: You know what you've done? It's really interesting because along with all those brothers, you've almost created a musical genre of Broome. When we talk about the finger picking we think of that, in our minds we are going to under that mango tree. I love the names you give your songs like 'Sashimi Brain'.
SP: The lyrics of the song came from back in the early Adelaide days. Back then we used to play at a place called the soup kitchen and Jimmy had this idea for a song about Sashimi, he said if you drink too much grog that's what your brain turns into.
DS: You mentioned Chasm, which is the centre of Aboriginal music down in Adelaide. Would it be safe to say that it is the birthplace of those first bands we were seeing like 'Coloured Stone?'
SP: It was really only the Aboriginal music school at the time. I remember Jimmy saying we can go to music school; we were playing fairly full on in Broome at the time. Jimmy was writing great songs back then and using Aboriginal language. We jumped on the train and went to Adelaide and saw some really inspirational bands who were singing original songs back then about land rights and stuff. Pretty ground breaking.
DS: Amazing stuff, I actually got to see 'No Fixed Address' in London in 1981 or 82. There was a group called 'Scrap Metal' and this amazing clip came out and I think it was one of the first clips that got some mainstream play, and it was 'Broken Down Man,' remember that one?
SP: Yeah certainly, we spent a bit of money on it back in '87. We hired the video making crew that 'Midnight Oil' used. They shot it on 35mm and we got a loan and had to pay it back. We just decided to go for it properly. We shot around Broome and it still stands up.
DS: It was so schmick.
SP: 'Scrap Metal' started in '83 after I came back from Adelaide and that was 30 years ago, so we're talking about having a reunion concert to tie up a few loose ends. Nothing's concrete yet, we're just talking about it. 'Scrap Metal' was my start in trying to crack mainstream music and we managed to tour with 'Midnight Oil' in 1987 and that was a great eye opener. In the end it took its toll, 10 years of being full on took its toll on us both financially and family wise.
DS: Talking about family, all the brothers were together; you all arrived at the coast at the time with great fanfare and 'Scrap Metal' had hit the mainstream, you were on the video shows and touring with extraordinary Australian bands. Everyone was asking if you wanted to be a band how could you remain in Broome and you did.
SP: Technology beat us a couple of times, back in those days we funded everything we did ourselves. One of our albums we did on LP and this is the story of how technology can beat you; we made 3000 copies and a week later CD's came out.
DS: Guess what? Vinyls are back and they're more popular than ever. It's very exciting Stephen, because guess what? You're sitting at number one our Deadly Sounds Chart countdown with 'Wanderer', how's that?
SP: It's great. When I was recording my new album my missus said that I'd better write one for her so I recorded 'World Is Turning'. I haven't written many love songs throughout my career.
DS: We covered quite a bit on that trip down memory lane.