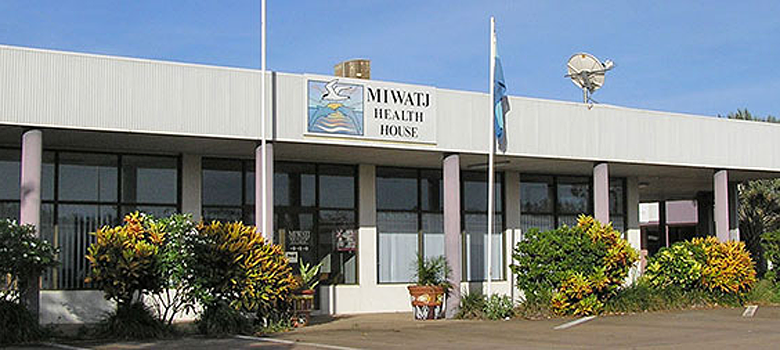 Miwatj Health Aboriginal Corporation is an independent, Aboriginal controlled health service that provides clinical services to 5,000 people from around East Arnhem Land, and provides other public health programs to the entire population of 10,000 in the region.
The Miwatj Health's philosophy is that Aboriginal people have the fundamental right to control their own health services.
"To improve the health and wellbeing of residents of the communities of East Arnhem Land through the delivery of appropriate and comprehensive primary health care and to promote the control by Aboriginal communities of primary health care resources," is the Miwatj Health's mission.
Established in 1992, they have a clinic in Nhulunbuy, Gunyuyangara, Galiwin'ku and Yirrkala, providing a walk-in service for all health related needs. In addition to these fixed clinics, their outreach team provides regular visits to nearby communities including Birritjimi, Galupa, Gunyangara, Garrathiya Plains, Yirrkala, and within the Galiwin'ku community.
"We aim to deliver comprehensive primary health care by using the best practices possible," says Chief Executive Officer, Eddie Mulholland.
"We believe that Aboriginal organisations can do as good if not better than any other mainstream organisations."
Miwatj Health sees primary healthcare as an interlinked system, they support the view of the World Health Organisation in that an effective health system has six fundamental building blocks:
Health services: delivering effective, safe, high-quality personal and non-personal health interventions to those who need them, when and where they need them, with minimum waste of resources.
Health workforce: sufficient staff, fairly distributed, competent, responsive, productive and dedicated to the needs of Aboriginal and Torres Strait Islander people.
Health information: producing, analysing, disseminating and using reliable and timely information on health determinants, health system performance and health status.
Medical products, vaccines and technologies: with equitable access, safe, efficacious, cost-effective and scientifically sound. Quality-assured pharmaceuticals are provided free-of-charge to their clients.
Health financing: adequate funds, directed in ways that ensure people can use needed services – that people are protected from financial catastrophe or impoverishment associated with having to pay for the services and which provides incentives for providers and users to be efficient.
Leadership and planning: strategic policy frameworks which are combined with effective oversight, coalition-building, regulation, attention to system design and accountability.
Miwatj Health provides a wide range of services carried out by qualified staff including diagnosis of illness, treating acute trauma, carrying out full adult and child health checks, ante-natal and post-natal care, providing medications, developing chronic disease care plans, undertaking mental health interventions, carrying out alcohol and other drug clinical assessments, transporting patients for further radiological investigations and many more.
The health centre also provides many innovative programs, namely the Strong Fathers, Strong Families Program – a three year project that aims at strengthening the role of Yolngu fathers in their families by engaging men and their families in numerous activities like cooking and attending lifesaving every Sunday.
"A lot of Aboriginal men, particularly in this region have lost the power they had pre-colonisation," he says.
"They have lost a lot of self-belief and turned to drugs and alcohol – this program is a way of building that self-belief in them back up, being in control of their families and being able to provide for them.
"It has been a very successful program so far."
To learn more on Miwatj Health Aboriginal Corporation visit their website.