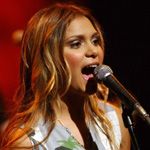 Her name is Deniece Hudson and she's rocking Victoria with her groovy contemporary sounds and crowd-pleasing looks.
At just 19 years of age, Deniece has already collaborated with artists such as Nick Barker (The Reptiles), Paul Hester (Crowded House), Nicky Bomba (Bomba), Grant Hansen (Blackfire), and John Favaro (The Badloves).
Deniece originally opted for a career in finance but has recently decided to follow her heart with music.
"I did one semester of accountancy, but that's not for me at the moment, so I'm writing songs and doing a few gigs, like NAIDOC Week," says Deniece.
Whilst completing her VCE at Northland Secondary College Deniece was lucky enough to go to Arnhem Land and record her first song "Watching Over You" at Yothu Yindi's new studio.
"Yothu Yindi really inspire me because they're right out there in the mainstream," she says. "They don't change their songs to what people want to hear, they write what they want. They started out as a local band and they're now an international success. So I look up to them."
With the way her newfound career is going, it won't be long before people are looking up to Deniece Hudson.
"I'd like my music to touch people and make them feel good." /tCBR>