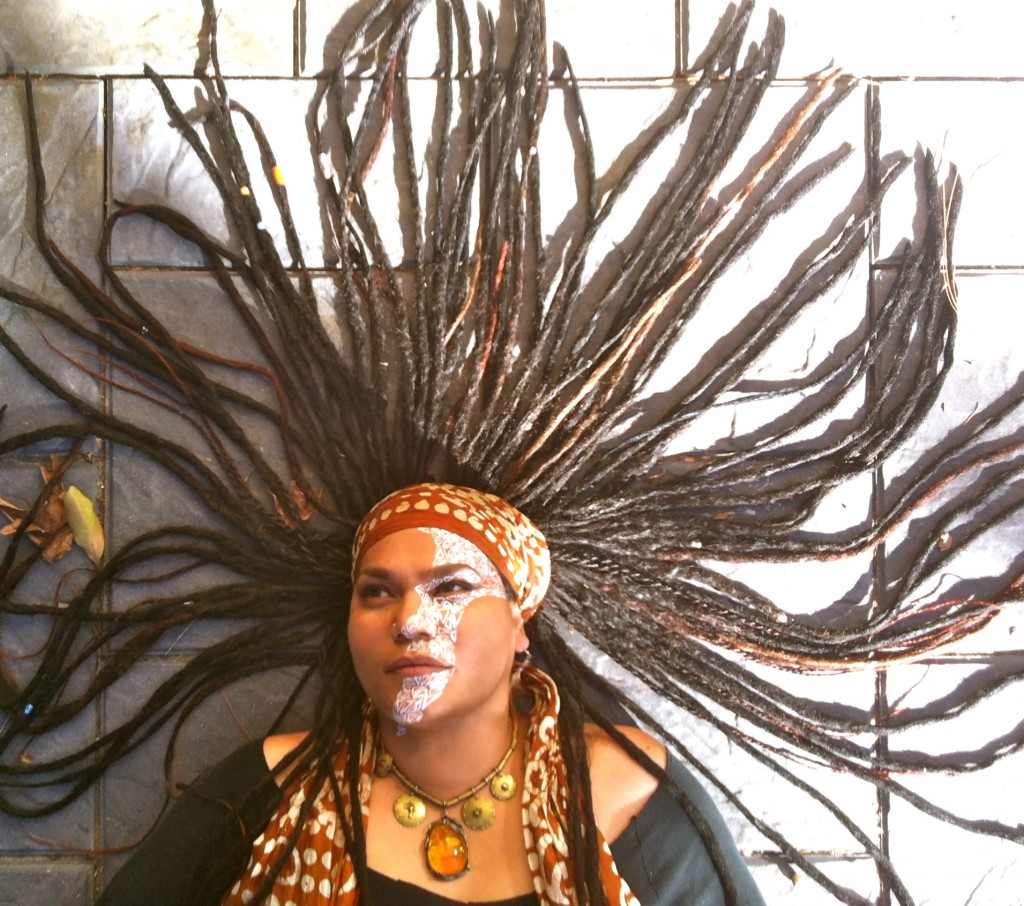 Gambirra is a talented independent producer, composer, arranger, singer, songwriter and multi-instrumentalist who will be performing at the Sacred Sounds Festival next month.
Musically, Gambirra fuses a captivating blend of roots, soul, funk and dub that breaks all cultural barriers with its depth and significance.
"From a very young age I have had to learn to accept differences and I find it deeply intriguing," says Gambirra.
"I like to remain open to different interpretations and viewpoints. We all have ways to express our souls within what we experience and have, rich or poor, good or bad. I am inspired by thoughts of inclusion, acceptance, equality, justice, peace, and love."
A Yolngu woman from North East Arnhem Land, Gambirra has a strong cultural lineage and is related to other well-known Yolngu performers such as Gurrumul, Yothu Yindi, Djalu, and Wanjuk Marika.
She draws her inspiration from being on Country and says it's important that you never lose sight of your cultural heritage.
"Nature inspires me, its immense beauty and ingenuity. It keeps me connected to my soul and roots and to life on this planet as a whole," she says.
"There is no other culture in the world quite like ours. It is not only a marvel and treasure for us but for all of humanity to learn and draw inspiration from.
"For us mob, our spirituality is inseparably linked to the land – it is our source of food, culture, spirit, and identity.
"Whenever possible we need to be in our Country. We must seek out our elders, sit with them and learn our stories and culture. We must recognise, support, and strengthen each other.
"We have serious responsibilities toward our people and our future generations. The survival of our Country and culture depends on us."
As well as a musician, Gambirra is a gifted artist. She translates her love of music to a canvas remaining connected to the spirit and country of her ancestors and has been passing this on to children through workshops since the 90's.
Musical synergy workshops, exploring rhythm beats singing and chanting and Aboriginal cultural workshops exploring arts and crafts creating large murals, are some of the activities she conducts.
"I work through inhibitions to build self-confidence and discover creativity in a fun and supportive environment," she says. "I love working with children, it definitely a rewarding."
Gambirra will be opening the Sacred Women's Voices event at Blacktown Arts Centre as part of the Sacred Sounds Festival with her piece 'Baru – The First Light, Fire'.
"I will be drawing from my Yolngu heritage and dreaming with Baru (Ancestral Dreamtime Crocodile), the carrier of the sacred fire," she says.
"I have been in deep consultation and education with my tribal elders and family in Arnhem Land to help formulate my piece.
"I think it's a fantastic concept and confirms what I support and believe in – bringing people together in a spiritual way and facilitating cultural exchange."
To learn more about Gambirra and see some of her work visit her website.