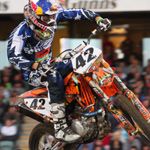 This 17-year-old Bourke lad stunned the Super X world after claiming fourth place in his first season in open class racing. We caught up with the level-headed Koori fresh from his inaugural season with the big boys.
Height: 187cm
Weight: 82kg
Age: 17
Mob: Kamilaroi Nation
Sport: Motorcross rider (Class KTM 450cc SF-X)
Nickname: 'Simmo'
Pet/s: A dog named 'Rip'
Siblings: Three sisters and three brothers
How long have you been riding for?
I've been riding motor bikes since I was five, my dad bought me a 50cc and away I went. We have a pretty big competitive streak in our family so it didn't take long before I started racing. By the time I was 9 I was competing at state level competitions.
How did you get involved in the sport?
My uncle used to ride bikes and he was pretty good, I used to watch him and be amazed at the stuff he could do but once Dad bought me a bike I basically have never got off it.
What do you love about it?
As a youngster I started playing footy, swimming, athletics and that kind of stuff but I always loved riding. With bikes I love the adrenalin rush you get when you're competing and it's a sport where you only have yourself to rely on; plus where else do you get applauded for going faster and jumping stuff!
What is your best sporting attribute?
I can get away with being so big and tall and I've been doing it for years so I'm a natural and had no fear. Not scared.
You've had to compete with an injury for most of this season, how have you been able to manage that and still get results?
A week before the Australian Super X series I had a training accident and hurt my knee pretty bad so I carried an injury through the entire series. We wet the track at home so I could practice in the wet but unfortunately I slipped on the down ramp. We're lucky in racing that the demands on our knees are not the same as footy, there's no twisting and turning so I just had to ice and warm up and down my knee before and after races.
Now that the series is over I'm off the bikes for the next ten weeks and having a complete knee reconstruction done.
What's next for Tye Simmonds?
I'm going to spend one more year in Australia racing in the Super X and Motor X open series to get some more experience. My aim is to head to the United States in 2011 and full fill my dreams of becoming the best rider in the world.
What does an average training session involve?
Before the start of the season a normal day would see us doing heaps of cross-training. It's all about building strength and stamina for competitions so I do a fair bit of jogging and cycling; every other day we'll do core and stability work and hit the weights. In the middle of the day I'll spend a couple of hours on the bike and before finishing off the session with some Jet-skiing. During the season it's all about the bikes, I also have to get as much rest before a race to make sure I'm not buggered before a race.
What's your favourite form of training?
Without doubt it's Jet-Skiing, it's not as easy as you'd think but its bloody fun.
What does your training diet consist of?
When I was on the 250cc's I had to limit my food intake and carbohydrates to keep my weight down, otherwise the smaller engine on the 250cc would struggle. When you're riding in lower classes it's no different to being a jockey, you have to keep your weight in check so you can keep up your speed. But now that I'm on a bigger bike I can put some more weight on so my diet is only one part of it, I also need to hit the weights.
Do you have a favourite cheat food or way to vary your diet to get your favourite food in?
Subway would have to be my favourite food but you can't beat an iced chocolate from Gloria Jean's!
What about drugs and alcohol?
Drugs are a no go under any circumstances, I've seen a lot of guys around my town ruin their lives with drugs; I'm lucky my mates and I stay away from all that stuff. When I see blokes on drugs it's a good reminder of why I stay away from them. I'm only 17 but my view on alcohol is that it's only ever ok in moderation, when people drink they should do it for a celebration not for the sake of it.
What advice do you have for Deadly Vibe readers on health and sport?
Just try and have fun with what you're doing, enjoy it for what it is and don't let fear of failure hold you back. The best advice I've ever been given would have to be that, 'if you're not enjoying it, you're in the wrong sport'.