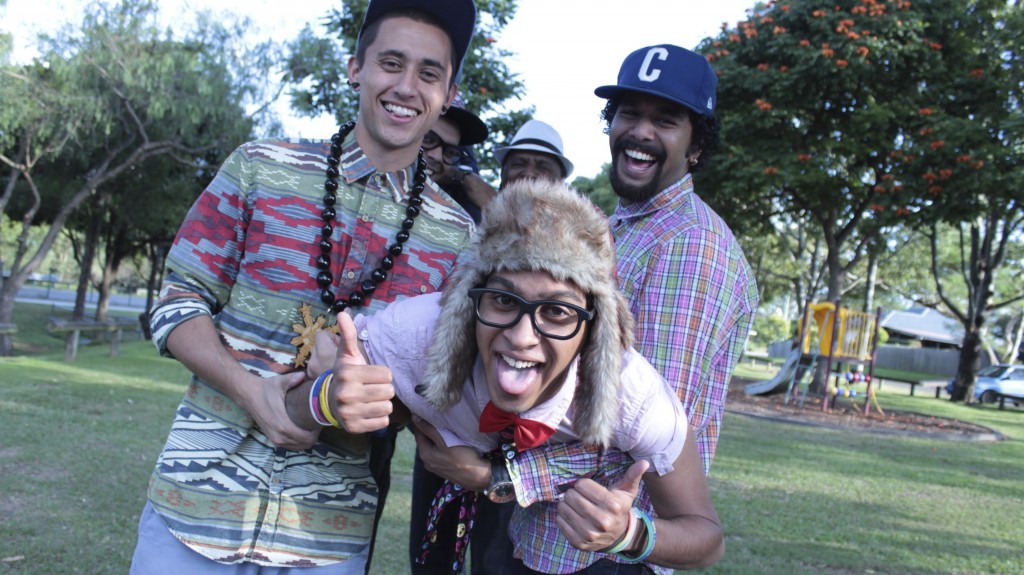 It's not very often that you see bands creating their own genre of music, but that is exactly what the unique band Classik Nawu has done.
The popular result of five members of mixed ethnicities coming together to make music, the HipFunkFresh genre is a little bit Australian rap, a little bit jazz and a little bit indie. The combination is so perfect that it's easy to see how they've developed such a significant following within such a short amount of time.
Growing up in a remote island community, Aboriginal and Torres Strait Islander brothers Sah and Tito Ghee began experimenting with different sounds. When Sah started attending college he met Swilo who is of Philipino background and the three formed a band.
"Me and Swilo did a few assignments and gelled really well together so I said 'hey, my brother plays guitar, why don't we do something?' from there we started jamming and writing songs together," Sah says.
The trio then recruited drummer Jimahl Jai Fairburn and a bassist, then took it to the street.
"I've been writing for three of four years now and I've created my own style," Sah says.
Sah and Tito's father Tony began playing bass for the group after their original bass player had to leave due to sporting commitments. Tony has been performing with them ever since.
"They combined a lot of Jazz, Funk, Reggae, Soul into rapping and hip-hop and created this genre called HipFunkFresh," Tony says.
Their five song EP 'Hip-Funk Fresh' came out last September with three of those songs already on iTunes – 'Bring the Sun Out', 'Fashun Misfit' and 'How We Live'. They're also doing more studio work at present and hope to release some more singles before the end of the year.
"Fashun Misfit is about being who you are and not trying to be someone you're not," Tony says.
"The songs that are written are not derogatory, not violent and they're about everyday life, how we live."
As well as keeping their songs clean, the boys also try to keep the lyrics of their songs easy, positive and not political.
"We keep it all positive, it's not about the negativity at all and we try to keep it all happy-happy," Sah laughs.
"Some of them you'll have to think about but it's mainly easy listening lyrics."
Their first ever live performance was at a club in Brisbane's north end and while the boys were quite nervous, the crowd responded very well to their sound.
"It was nerve-wracking at first but once we got up there and did our set it felt like we were at home," Sah says.
"I've been performing all my life, doing drums and singing and stuff but to be the main focus with a band and a whole new style of music. There was a great feedback from the crowd so that just sparked the fire I guess."
They are now well seasoned performers and late last year the band had the opportunity to play at the six-day Woodford Folk Festival, held on the Sunshine Coast on Jinibara Country.
"Woodford was awesome. It was so good, the crowd was so good, the whole aura of Woodford was great," Sah says. "We'd definitely go back there next year."
After playing several shows, they received many posts from fans on their Facebook page commending them on their unique sound as well as compliments from fans that had seen them previously.
"We picked up at least a couple of hundred fans there and we saw people who had seen us in Brisbane," Sah says.
This month the boys will embark on their Bring The Sun Out Tour with fellow Queenslander bands Impossible Odds and The Coldwater Band. The bands will be visiting Maroochydoore, Cairns and Townsville.
Next year they hope to enter the Triple J Unearthed competition for a second time.
To follow the band, visit their Facebook page.