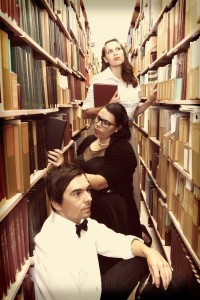 The Spirit of Things – Sound of Objects is a research, history, arts and cultural project that explores residual and embedded stories and songs retained in Aboriginal cultural material.
The project has been initiated by the Stiff Ginns – Nardi Simpson, Kaleena Briggs and Syd Green, in partnership with the Australian Museum.
The idea of releasing the songs embedded within Aboriginal cultural material came from elder and friend of the trio, Uncle Max Harrison.
Some of the items they're working with include shields and clubs from the Riverina area of NSW, a boomerang from Narran Lakes NSW, crystal a quartz hunting charm and a spear thrower from Cape York Qld, pearl shell pendant from Kimberley Area WA and king plates from NSW.
Perhaps the most interesting of the artefacts is a wax cylinder recording by Fanny Cochrane Smith containing the only known recording of the traditional language of the Palawa people of Tasmania, dating back to the late 1800s.
Nardi and Kaleena discovered the cylinder while they were performing in Tasmania and decided to use it in their exhibition. Soon the National Film and Sound Archives (NFSA) heard about the project and offered their assistance to the trio.
"The National Film and Sound Archives in Canberra have heard about our project and asked if they can help us in any way," Nardi says.
NFSA have allowed Nardi and Kaleena to search through the archives to find visual and audio material to be used in the project, along with their collections of wax recordings. They also offered to build a working wax recorder so that the duo could create their own.
"They didn't have any wax cylinder recorders; they had a wax cylinder player, so part of their process has been trying to work out how to make this really old machine," Nardi says.
"They've had to send away for parts to Europe and the UK to make this recorder and they're kind of delving into their archives about their history the way that we are."
The recorder has now been built and is ready to go. Nardi and Kaleena hope to make the trip to Canberra and begin recording within the next two weeks.
"It's an opportunity for us to create music guided by musical history and culture," Nardi says.
Eventually the project will be shown as a performance and an exhibition at the Australian Museum.
"The big plan is to have a public opening where we screen and play the songs and images in a public performance then have an accompanying exhibition inside," Nardi says.
To follow the project visit https://www.facebook.com/SpiritOfThingsCollective