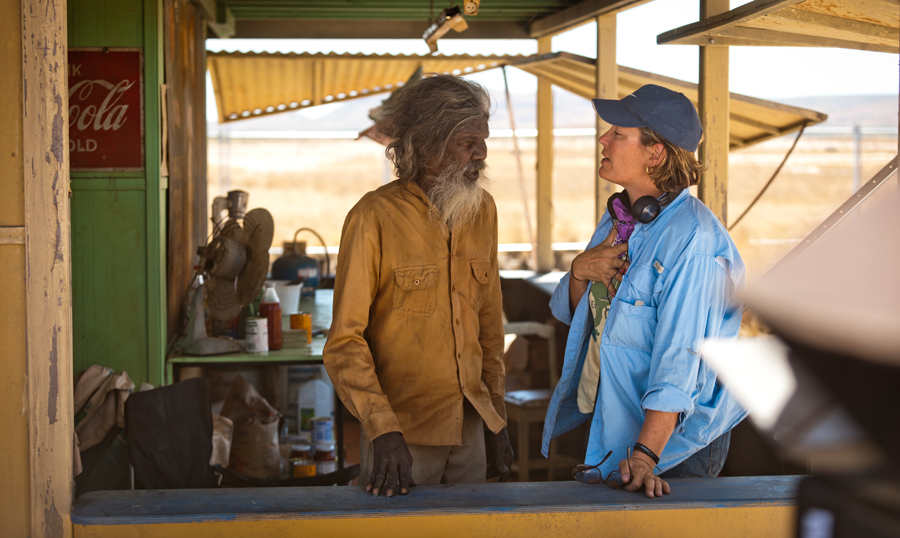 Catriona McKenzie's first feature film Satellite Boy is a heartfelt, moving and uplifting story about a young boy's journey to save his home and connect to his culture.
Catriona has directed plenty of TV productions, including episodes of Redfern Now and The Gods of Wheat Street, but this is her first feature film. Satellite Boy follows 12-year-old Aboriginal boy Pete (Cameron Wallaby), who lives with his elderly grandfather, Old Jagamarra (David Gulpilil). Home is the abandoned outdoor cinema in the outback town of Wyndham. When it is threatened with demolition, Pete sees his world in jeopardy and sets off for the city. He is joined by his friend Kalmain (Joseph Pedley), who has his own reasons for leaving town. Together the boys travel through the epic and stunning Kimberley country, and when they get lost in the bush, Pete has to remember some of the old Aboriginal bush skills his grandfather taught him so that they can survive.
Catriona says the movie is about two things. "It is a personal story about a relationship between a grandfather and his grandson, and it is a story about land rights. I think non-Aboriginal people really want to understand about culture and country and they don't always get the opportunity, so I wanted to make a film where people get to experience that call for country – that ache for country," she says.
She says Satellite Boy is about an intimate engagement to country and culture. "Satellite Boy is about a boy whose grandfather says to him, 'You are always running away – who are you?' It is a metaphor for a boy who is like a satellite moving through the stars. At the end of the film he knows where he is from. He knows his place in the Milky Way," she says. "In that great '70s film Picnic at Hanging Rock, at the end the girls disappear through the big powerful rocks and are never seen again. In Satellite Boy there is a moment when the boys are in the Bungle Bungles – very powerful country – the two boys walk through a big chasm and they can hear their ancestors and country talking to them and they go between these two walls of rock and they come out the other side stronger. It is a statement about how far we have come from the '70s to here," she says.
Another film that had a big impact on her as a film-maker was the classic Walkabout, in which David Gulpilil was first discovered. She says it was a privilege to work with him. "He had a sore foot. We had to carry him in the King Chair. But I would call 'Action', and he would stand. He is a freak, a beautiful amazing person," she says. "It was such a privilege to have David involved in the film. I don't know who else could have played it with such feeling. In Walkabout, he comes across the lost children. At the end, the girl goes back to this city, but she has been touched by that connection to country and to him and she is never going to be happy now because she understands there are other possibilities," she says. "There are strong similarities between the films – in some of the shots in the film I am paying direct homage to it. It has a legacy as an iconic film.
She says the screenplay took a few turns in the writing. "I wrote the first screenplay, which was this big blockbuster epic in the desert and it was a love story between a teenage boy and girl that doesn't go well. I left it for awhile and Samson & Delilah was made in the interim – I thought I am not going to do that one anymore," she says. "So I thought I would write about a grandfather and a grandson because that is a powerful, universal relationship." She says the film has been inspiring local Aboriginal youth to reclaim their culture. "When we filmed it in Wyndham, in the Kimberleys – the next day all of the Aboriginal kids there were saying, 'I want to go out bush, I want to make a spear' – they were very proud of their culture," she says. "It took less than six weeks to shoot the film and we shot it for only $2.5 million. (In contrast, a telemovie can cost $5 million to shoot.) We did not have money to make it. We had to live in tents at the back of a caravan park."
The film has been well received overseas and received two Special Mentions at the Berlin International Film Festival earlier this year. "It was also loved in Canada and SaudiArabia by the Indigenous mob there, and the US loved the film, so I hope Australians embrace it, too," Catriona says. "In Berlin at the film festival Q&A, they asked Cameron Wallaby what he wanted to be when he grew up and he said, 'I want to be a cultural man'. The film is about that – understanding your culture and what it is to walk your country." Satellite Boy was made in conjunctionwith Screen NSW and the Aurora Screenplay Development Program. It will be released nationally on June 20 through Hopscotch Films.