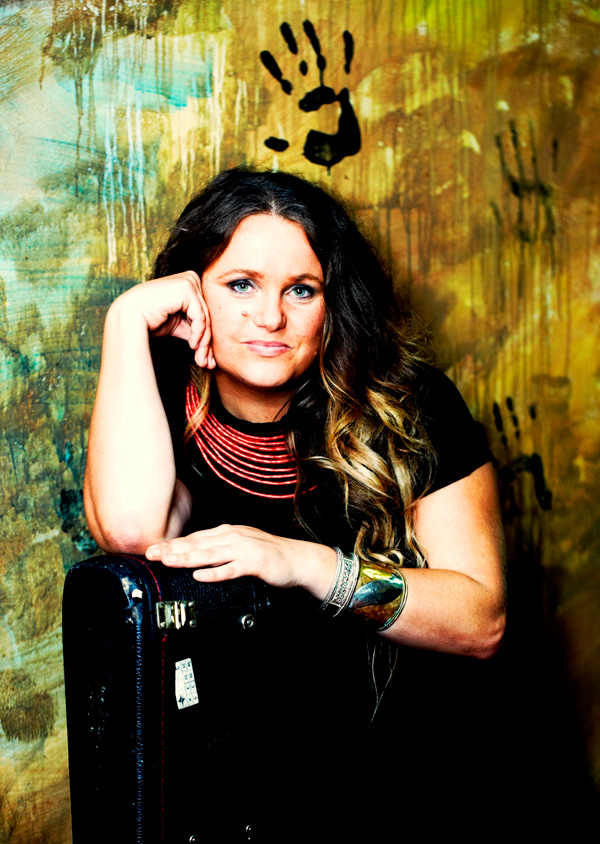 Up and coming blues and roots artist, Krista Pav, knew she wanted to be a singer from the moment she found her voice at the tender age of five. Now 30 years old, Krista's voice has been compared to the legendary Janis Joplin, but it's a comparison that doesn't quite sit with the talented singer/songwriter who is making her mark in her own unique way.
Born and raised in Ceduna, SA, Krista remembers when her love of music and singing was established. "It's funny because I remember as a kid I would watch Countdown Revolution and think to myself that one day I'd write a song that would be a hit," she says.
Krista and her brother used to fight over an old beat-up guitar they'd been given by their Aunty. Her brother showed her a few chords and by the time she was 14, she had written her first song. Soon she was busking her way around the country, which helped her to develop as a performer and build her repertoire. She then began to play in venues and festivals in South Australia and the North Coast of New South Wales, as well as making trips to Europe and the UK.
With a strong affinity for blues and roots music, Krista has been likened by some to Janis Joplin but is weary of such comparisons. "I don't feel that I'm actually really much like Janis (Joplin)," she says. "It's not something that I have deliberately gone out and thought I'm going to try and sound like this person." Although her taste in music is varied, Krista says that many different artists have influenced her. "I have always loved all music, especially Coloured Stone –how could you not, growing
up in Ceduna, South Australia? Artists like Kev Carmody, Kerrianne Cox and Lou Bennett have also been a huge inspiration to me, they are all artists that I really look up to."
Krista's self-titled debut EP was launched at the Woodford Dreaming Festival in 2008 and gained extensive airplay, with one of the tracks being featured in the compilation CD Making Waves. In January 2009, Krista landed a recording contract with Gadigal Music and released her second EP, Keep On Keep'n On, which went to number eight nationally on the AMRAP AIRIT Charts, with the title track landing the number-one spot in the Blues category.
In 2012, Krista was the recipient of a performing-arts residency at the Blacktown Arts Centre and it was during this time that she recorded her latest four-track EP, Free Spirit. This time around she has incorporated Ngiyampaa language in two of the tracks. "The residency was amazing," she says. "I had the opportunity to work closely with my Aunty, who is a linguist in our language, Ngiyampaa. We worked together and wrote "Free Spirit", a song that's part English, part Ngiyampaa. And the song "Wangaaypuwnkirrpathi" ("Amazing Grace") was completely translated in Ngiyampaa. "It is extremely important and meaningful work. Language has played a big part in my life as far as keeping me strong in my identity," Krista says.
One of the tracks off her latest EP reached number nine on the Triple J Unearthed roots chart, which has exposed her music to a whole new audience. One of Krista's own inspirations, Kev Carmody, says: "Krista's songs and lyrics come from a cultural base, this not only anchors them but gives them a powerful presence. Her voice is a unique bonus."
Photos: Tanja Bruckner