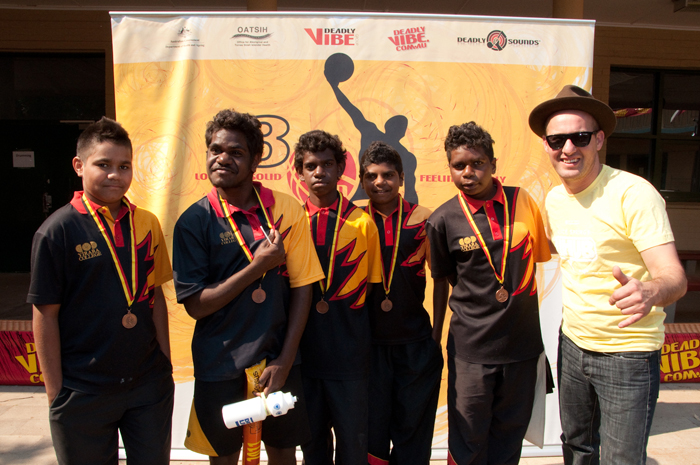 If you like basketball, art, hip hop, rapping and break dancing, then you don't want to miss the Stronger Futures Alice 3on3 on Wednesday 19 June. The Stronger Futures Alice 3on3 is a great opportunity for local students to get together and participate in fun activities that help to promote youth leadership and healthy lifestyles, and the importance of going to school to get a good education that can lead to a rewarding job in the future.
The event, run by Vibe Australia, is a travelling sport and music festival that brings together Indigenous and non-Indigenous students for a fun day of basketball, rap writing and hip hop dancing classes, art competitions and other workshops tailored for young people. There will also be a special Wheel of Life activity, where participants get to spin the Wheel of Life and answer questions for prizes.
The event encourages sportsmanship, teaches new skills and builds self-esteem, as well as promoting reconciliation at a grassroots level and pride in culture. Hosted by actor Luke Carroll, the event will also promote strong, healthy lifestyles free from drugs and alcohol, and safe communities. It will feature an opening ceremony, a free healthy breakfast and barbecue lunch and an exciting line-up of celebrities, including Jacinta Price, Charlie Maher, DJ Jimblah, Kevin Kropinyeri and MC Bryte.
The 3on3 festival will also include a Stronger Futures expo that brings together local service providers to promote their services and engage young people and parents to help them find out about the types of youth, education, employment, training and health services available to them. The events are staged against the backdrop of the latest hip hop and Indigenous music. To participate in the Stronger Futures Alice 3on3, young people need to pre-register through their school in teams of four or five by 12 June. "Ask your teacher or principal if your school is getting involved and encourage them to register you and your mates," says event Producer Mayrah Sonter. The event is capped at 400 kids so get in quick to gain your spot at the 3on3.
It will be held at the Alice Springs Basketball Stadium, Traeger Avenue, Alice Springs. Registrations are open now, and schools can visit www.vibe.com.au to register. The event would not be possible without the support of the Australian Government through the Stronger Futures in the Northern Territory initiative. For more information about the 3on3 events go to www.vibe.com.au. For news, stories and information on Closing the Gap, visit indigenous.gov.au. For all media enquiries, interviews or photos please call Maryann Weston at Vibe Australia on (02) 48 228230 or email on [email protected]
Go to the Stronger Futures Alice 3on3 event page