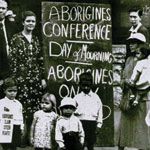 rong>A Day to Remember
This Survival Day is the 70th Anniversary of the Day of Mourning protest and conference, which was held at Australia Hall in Sydney on the 150 th anniversary of British invasion " January 26, 1938.
The event was organised principally by William Cooper (who founded the Australian Aboriginal League in Melbourne and drafted a petition of Aboriginal grievance which the Government refused to pass on to King George V) and William Ferguson (leader of the NSW-based Aborigines Progress Association).
For the protest, William Ferguson and Aboriginal activist Jack Patten wrote a manifesto entitled Aborigines Claim Citizenship Rights in which they appealed for a new Aboriginal policy, full citizenship status, equality and land rights.
The manifesto opened with:
"This festival of 150 years' so-called "˜progress' in Australia commemorates also 150 years of misery and degradation imposed on the original native inhabitants by white invaders of this country."
At the conference, which was attended by more than 1000 Aborignal people, the following resolution was read out by Jack Patten.
"We, representing the Aborigines of Australia, assembled in Conference at the Australia Hall, Sydney, on the 26 th day of January, 1938, this being the 150 th anniversary of the whitemen's seizure of our country, HEREBY MAKE PROTEST against the callous treatment of our people by the whitemen during the past 150 years, AND WE APPEAL to the Australia Nation of today to make new laws for the education and care of Aborigines, and we ask for a new policy which will raise our people to FULL CITIZEN STATUS and EQUALITY WITHIN THE COMMUNITY."
To honour this important date, a young Indigenous person will read out this resolution at the Yabun Survival Day concert in Redfern. The crowd will be asked to stand in respect of those who went before us and fought for the rights we have achieved, and those we are still fighting for.
No matter where you are this Survival Day, take the time to ponder the words of this resolution, and stop for a moment to think of the string and proud Aboriginal people who have fought so hard to bring us rights, justice and reconciliation.
We Have Survived!
Celebrate the survival of our strong and proud culture on January 26.
January 26 is not a day of celebration for Australia's Indigenous people " the date marks the landing of the First Fleet in Sydney Cove.
But nor should it be a day of sadness. Survival Day has been named as such for very good reason " despite the injustices of the past, we as a people have survived. Today, Aboriginal and Torres Strait Islander people are thriving. We have not let the wrongs of the past 200 years defeat us; now we are seeing Indigenous high achievers in every facet of society " from sport and music to politics and industry.
So hold your head up high this Survival Day, and be proud of what you are part of " a strong, smart and beautiful people.
Looking for a Survival Day event near you? Head to www.australiaday.gov.au to find a local event in your city, town, State or Territory.
Yabun Survival Day Concert
The Yabun Survival Day Concert held at Redfern Park in Sydney is always one of the biggest Survival Day celebrations in the country. The event has steadily grown each year since its inception, and draws people not just from the suburbs of Sydney but from all over New South Wales and beyond.
This year's Yabun Festival is shaping as being the biggest yet with a long list of Indigenous performers schedule d t o appear including Archie Roach and Ruby Hunter, Radical Son, Sharnee Fenwick, Street Warriors, Black Ralph All Stars Band and Freshwater.
Comedian Sean Choolburra will be making an appearance, as will authors Terri Janke, Anita Heiss and Larissa Behrendt. Hosting the day will be actor and star of Remote Area Nurse, Aaron Fa'aoso.
Street Warriors and Wire MC will also be running rap and hip hop workshops in the youth tent.
In the sport marquee, memorabilia will be displayed along with a demo boxing ring, and traditional games will be played. In the arts tent people will have to chance to meet an d t alk with Indigenous musicians and writers or join in the yidaki or DJing workshop