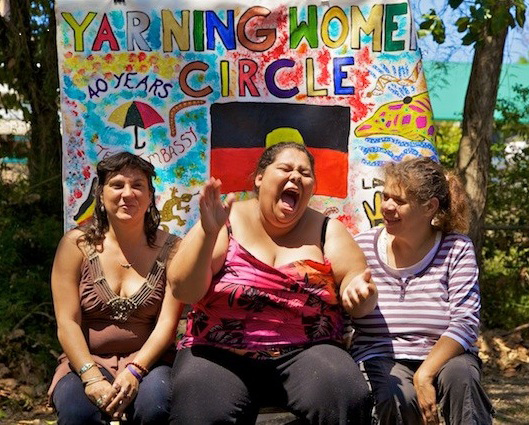 Keeping people 'On Track' An innovative new mental health program is ensuring that Aboriginal people with mental illness can stay supported in their community. On Track is an Aboriginal Housing and Accommodation Support Initiative (HASI) program, which is funded by the NSW State Government as part of a three-way partnership between North Coast Area Health Service, Housing NSW and On Track Community Programs.
These services work together to assist Aboriginal people with a mental illness to participate more fully in the community, maintain successful tenancies, improve the quality of their life and assist them in their recovery from mental illness.
In the Richmond and Clarence area, it directly supports about 11 people with mental illness. The program has seen recovery in action, with people reducing the support they need and reducing the amount of time that they are hospitalised.
Some other examples of the services that On Track Community Programs provide include: • self-care (shopping, medication management, housework, budgeting, physical health needs and assistance with mental health issues) • providing linkages and support for education and employment • providing opportunities for social and recreational activities, and • assistance with accommodation support for the individual and community. Executive Manager, Operations of On Track, Tracey Lawson says On Track is a great way for Aboriginal people to get support while battling mental health problems. "The On Track mental health team travel to Aboriginal communities in the region and support the person along with their family.
The model includes a person-centred plan that is completed with the person and their family, that guides the types of supports the person sees as important to their recovery," she says. The program ensures that people living with a mental health concern are supported in their own community and does not require them to visit a hospital or come into town like other services do. "This difference is critical in ensuring that the service is sensitive to Aboriginal people's experience of support and takes the whole of family approach," Tracey says. "On Track employs Aboriginal staff who understand cultural safety and community protocols that assures the program's success. The culturally safe, gender specific environments have created space for participants of the program to yarn, and learn about how to best care for their mental health. The women's yarning circle is a great example of providing that support."
Participants in the program have started to play guitar, study and work, some have found their totem and been reconnected to their community. On Track's partnership with the North Coast Area Health Service has resulted in a decreasing number of hospitalisations among clients. "The program has been very successful in increasing the connections between the people supported and their country, community and family. There is nothing more inspiring than to walk alongside a person on their recovery journey," she says. "When people face mental health challenges, they can often lose hope. It is during this time that On Track can provide just enough support, at just the right time, holding the person's hope for them.
Aboriginal HASI programs like this not only provide hope that every person with a mental health challenge can recover, but it has really saved lives." On Track Community Programs is a growing and responsive community based organisation servicing the Far North and Mid North Coast regions of NSW. Since starting in the early 1990s, it has developed into a leading provider of support services for people experiencing mental illness, disability or employment and accommodation difficulties. Through five Support Services Streams it provides assistance to more than 700 people each week and currently provides support to more than 41 support programs employing around 280 people.
These programs range from 24-hour supported accommodation for those with high needs, to skills-based and creative day programs at a Connections Centre. To be eligible for support through this program you must be over 16 and be diagnosed with a mental illness or have experienced psychiatric disability and have the capacity to benefit from the program. For more information about On Track Community Programs visit ontrack.ngo.org.au or call 02-6622 0309 or visit http://www.otcp.com.au/about/