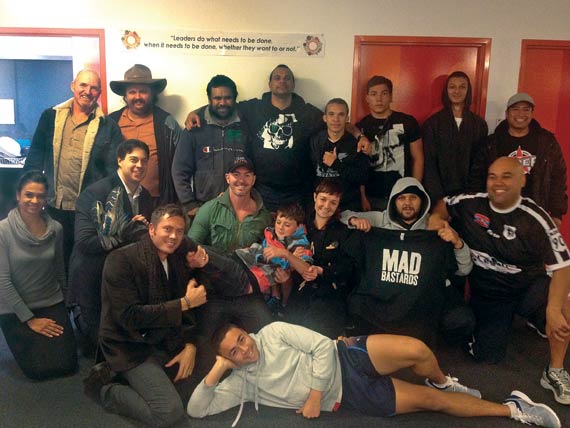 Jailbreak: If only 80s rapper Ice T knew the role he played in changing the life direction of a young Kabi Kabi man, Ken Zulumovski, who was already before the juvenile courts. Today, Ken leads an Aboriginal men's healing group, known as 'Gamarada' in Sydney's inner-city community of Redfern.
Ken: My name's Ken Zulumovski. I'm a descendant of the Kabi through my grandmother. I'm a facilitator and leader of the Gamarada leadership and healing program at the National Centre for Indigenous Excellence in Sydney's Redfern. My tribal name is Kiridan, which means 'man with fire'.
Ice T was a bit of an inspiration. He really helped me to open my eyes to the consequences of my  behaviour. There was a pathway that I was on that was pretty much heading to nowhere and prison was part of that nowhere picture. I grew up in what was probably the worst postcode in NSW, as far as the stats go.
Gamarada is an opportunity for me and others like me who've made positive change to come together with others who are more vulnerable or at risk. The younger fellas, even the older fellas, anyone who's at a point in their life where they just need a bit of support and guidance.
My message to the brothers and sisters inside is simply to find whatever it is you want and never give up. Never quit. That doesn't mean it's going to be easy. It's going to be a long hard road – just don't give up.
Jailbreak: What's your connection to Ice T's music?
Ken: He grew up without his parents. I grew up without my dad. If you read between the lines and listen to his lyrics, every song is a lesson. It's wisdom and lived experience as well and I can relate to his experiences. "You Played Yourself" is a classic track. The message is really strong. He's talking about drugs, an addict, a person who in this case is not taking responsibility, not paying them back, cold biting them, owing everyone money.
There was a stage when I was 15, I was drinking a lot and smoking a lot of yarndi and experimenting with the odd prescription drug. It was when I started getting into Ice T's music. I tried speed a couple of times. I was 17 and I remember waking up one morning and having these blackouts and thinking, 'I just don't want to do this anymore, I'm ruining my mental health, damaging my brain', you know? I needed to stop. So I made a decision never to touch marijuana again and never to damage my body and brain again. I think I turned that around. I swapped substance abuse for health and fitness.
I'd joined the army reserve at 17. I was always late to parades, disorganised and always in a rush and I remember one of the officers saying to me, "You are always late." I'd always have an excuse, and he said, "You've always got an excuse!" I thought to myself 'Yeah, I do always have an excuse… Why do I do this? Because it was too hard for me to say to myself I was disorganised. Because I just couldn't face the truth. The truth was, emotionally I was a wreck. I needed healing, there was still chaos and abuse around me, in my family, every place I looked. No stability, no love. I know the listeners out there will know what I'm talking about. You gotta be right all the time! You gotta be in control – it's a way of surviving. So when I listened to "You Played Yourself", it made me ask the question, 'How real am I, to myself and to others around me?' I realised the law of attraction and knew that if I grew, eventually I would be the person I wanted to be and attract better people in my life. The kind of person you are is the kind of person you're going to attract.
Ice T's track "The Killing Fields" takes me back to when I was 15. I was living in Housing Commission, a lot of domestic violence, a lot of poverty and shifty stuff going on in the 'hood. I'd dropped out of school for the second time. I'd been before the juvenile courts twice by the age of 17. At that time in my life, I didn't have a lot of prospects. I'd witnessed violence in the home for 15 years, I was a severely traumatised youth and feeling in need of help. I felt helpless and in despair and the school counsellors didn't help much. Listening to Ice T's "Killing Fields" as a young man was an inspiration for me and really opened up my eyes about the consequences of my environment at home. I couldn't see it then, I was so young and impressionable. My dad wasn't around when I was growing up. My mum was really struggling with a mental illness and wasn't around and often not there emotionally.
A lot of my guidance at that time came from Ice T's music. It captured my attention and my personality type. It was high energy, dramatic and real, and I could relate so well to those experiences he talked about. Some of the people around at the time, my mum's friends, were in and out of the clink, doing crime and drugs. A couple of them had died from drink driving, overdoses and car accidents, one person had tested positive to HIV from drug use. I watched them go in and out of prison. The song "The Killing Fields" made references to relationships between black and white communities and the police and poverty, disempowerment, discrimination.
Each of us can be a leader. We all know what we've been through. As Indigenous people we all have in ourselves a very pure heart, but we need to build that strength and stay close to spirit – don't play yourself.
To find out more about Gamarada, head to www.gamarada.org.au