Heavy rocker Dave Tinelt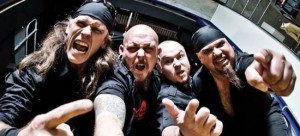 (aka Dave Freak) from metal band Nekrofeist is an Indigenous vocalist who has been hitting the high notes of his career, including a stint as vocalist with international metal legends mortal sin. Nekrofeist has just released their debut album – without reserve or regret.
Dave is from Wollongong originally. His mother is from Germany and his father was from Moruya. He has been singing for about 13 years now in various bands, usually filling in as vocalist from behind the drum kit, but he has taken the role of lead vocalist seriously now for about the last six years.
"I really didn't think it would lead me anywhere because my main passion as a teenager was playing the drums. In my first band it was out of necessity because we didn't have a vocalist and I was the only one willing to 'temporarily' fill that space while playing drums until we could find someone suitable. The other guys subsequently didn't bother looking anymore – they thought I was doing a sufficient job," he says.
He says he was attracted to thrash metal because of the power and dynamics of the genre and how it allowed him to express himself lyrically about social issues.
"I basically grew up listening to what my mates were into at the time, it all started with good old hard rock and I progressively became more interested in what was around and was simply influenced by the power and dynamics that metal had to offer," he says.
"I found myself at home with what I wanted to achieve musically with metal. I still have an appreciation for all genre's – but I can say whatever I want within metal in my lyrics to push a point across. It gives me a voice to make a real nuisance of myself for those who normally have their backs turned and refuse to address issues – political, social or otherwise."
Dave sang briefly with metal legends Mortal Sin. He says playing in that band was an amazing experience.
"Not only was it amazing to have played with such a bunch of talented musicians but just to have been part of that legendary history is an honour. Even though it was only for a short period, the fact that they came specifically looking for me just cemented the notion that I must be doing something right vocally," he says.
"It was just surreal fronting a band that had so much history and respect around the world. I'm still in contact with most of them since they disbanded and I'm currently writing some new stuff with a couple of the guys for a studio album."
He says his main influences as a singer are Sebastian Bach (Skid Row) Devin Townsend, Vince Neil (Motley Crue) and Chuck Billy (Testament) .
"All of these guys have something especially unique that has influenced and moulded my vocal style into what you hear today," he says.
Dave formed Nekrofeist in 2008, after a long stint in cover bands.
"I just wanted to venture out on my own, to write my own metal music. I originally was going back to playing drums and singing also, but that didn't last long with my band mates convincing me that I was more needed up front – maybe they just didn't wanna tell me I was a crap drummer," he says laughing.
"I had a vision to make my own band that I could be proud of – that wasn't just something we did in a garage on the weekend that was permanently going nowhere. This was something I wanted to take around Australia and even into people's living rooms. We've managed to expand it globally – even our videos have become regulars on programs such as MTV here, in the U.S and Europe and on ABC's Rage.
"We've had our songs played on both Qantas and Virgin in-flight radio stations, as well as numerous compilation albums including the ABC's 20th anniversary edition of Speaking Out.  It's been quite a ride so far and we don't plan on stopping there."
Nekrofeist's new album Without Reserve or Regret has just been released and Dave says he hasn't  shied away from the hard topics.
"There is a no-holds-barred vibe within the lyrics and its straight forward, in your face topics challenge the attitudes towards spiritual, political, social, patriotic and identity issues. Its lyrics were designed to raise awareness of subjects that are avoided for the most part, for whatever reasons but not forgotten," he says
"It's also a fun album that has a lot of positive energy, even though the lyric content is challenging – it's a hyper-extension of music that bounces and grooves. We've also just released our new official video for "Australian Made" off the album. You can find that and other vids on Nekrofeist's Youtube channel."
The band is planning a summer tour of the album – fitting in around Dave's other job as a drug and alcohol counsellor.
"It's absolutely great but challenging at the same time. I work with an awesome bunch of people that genuinely care for their Indigenous communities. Drugs and alcohol are obviously an ongoing issue that need constant supervision to minimise the damage and impact it has on us all and – let's face it, we've all experienced the negatives of misuse as a user or observer at one stage or another," he says.
"Being in popular bands all these years, I've seen it all first hand and have never had the desire to try or have been tempted to experiment with any of it for that very reason."
For more information about Nekrofeist see: www.nekrofeist.com