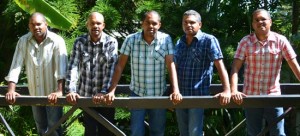 Deadly Award winning band Black Image have just released their third album called Too Deadly. The band has a strong base of fans in Northern Queensland and they're keen to expand that to a national following. We caught up with the group's guitarist Dylan Harrigan.
Black Image is a five-piece Indigenous band from Cooktown, QLD. The band is made up of five brothers from the Harrigan family – Dylan (vocals, guitar), Vincent (vocals, guitar) Damien (vocals) Cliff (drums) and Anselm (bass).
Since forming in 1997, they've been at the forefront of the Cape York music scene, telling stories of the traditional country of the Eastern Cape's Guugu Ymithirr and Kuku Yalanji clans.
The band has travelled through many parts of Australia performing their special blend of rock, reggae, country, blues and traditional Indigenous rock music. They have produced two albums Durrbil/Dikarrba (2002) and Beautiful Land and Sea (2007).
The new album Too Deadly was launched on October 27. Dylan Harrigan says the band has grown on this album – something that's reflected in the songs and production.
"The songs are more mature and we are more experienced in the studio, the song writing is the best we have done so far," he says.
"There is rock, reggae, blues, country and a few ballads on this album – but country music is still the core of our sound. It was our first taste of music. As we got older we started listening to different types of music. We bring all of this diversity into the band.
"Some of the songs are about our country up here in Cape York, as well as family and good times, along with a few personal songs. There is one about our grandfather, Roy Dick, who was a carpenter called 'The Quiet Achiever'. He built a lot of things including the church, which is still standing. He was never recognised, so we have done that for him through our music.
"Another personal song for me is the one about my son, who was very ill and who didn't pull through – I wrote that to remember him through song."
The album was recorded over a five month period as band members juggled studio and family commitments and was produced by Will Kepa.
Dylan says the band has a great balance, a big reason why they have stuck together over 15 years.
"We are a band of five brothers and I reckon that is a bonus. We read off each other. We have all been playing together since we were six or seven years old in our dad's band, Country Unknown," says Dylan.
"Our dad, Ronnie, showed us the way – he set the foundation for us. A lot of bands dismantle because they couldn't hit it or they didn't go down the right road. We are such a tight-knit band – we look after each other. We have our own families now, so we balance work, our music and our families – and you have to get that balance right. If you can you are laughing. There's time for your music and time for your family. We have balanced that out across the band and that is why we have been together for 15 years."
Dylan's advice to younger musicians is to stay focused.
"It comes back to commitment and focus. You just need to keep positive and focused with your music. There will always be hurdles coming at you but you just have to keep jumping over them," he says.
"We will keep going and producing albums and touring for as long as we can."
The band has also been shooting footage for a documentary about their lives.
"We have been working with Stormboy Productions in producing a documentary about the 15 years of our musical journey. It is about our life on the road and off – at our cattle station fishing with all of the kids out there running amok. Through it we are introducing our home to the world," he says.
"It is all in there. How we grew up and played music under the house on home-made instruments, to how we met Troy Cassar-Daley before he was a star, and how we kept in touch with him. There is also footage from a lot of concerts we have done. SBS are interested in screening it next year."
The band are also ready planning their next album which will be sung in language.
"It will be entirely in our mother and father's tongue – two different languages, which has never been done. Gurrumul paved the way to show other Indigenous musicians that if you sing in your language you can still get recognised in the mainstream," says Dylan.