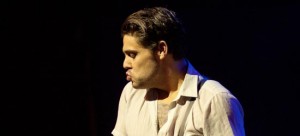 After two successful albums, multiple ARIA accolades, a growing horde of adoring fans and numerous TV appearances, Dan Sultan says he simply needed to take some time out and get his head straight.
Now, three years on from "Get Out While You Can" – the album that sent his profile soaring and earned him the tag as Australian music's next big star, Dan says he's back, feeling healthy, positive and excited about what the future holds – and he's already working on his next album.
Dan returns to the stage this month, performing at a series of concerts to help raise awareness around the push for Indigenous recognition in the Australian Constitution. He says he's fortunate to be in a position to help out.
Deadly Vibe: The promised referendum on recognising Aboriginal people in the Australian constitution has been a hot topic for some time. This month you'll be performing on the 'Rock for Recognition' tour… what made you want to get involved with the push for Constitutional reform?
Dan: First, I think we should be recognised in the Constitution obviously, and I think a lot of other people think that, too. I also think a lot of people don't even know that we're not and that it comes as a surprise to a lot of people that we aren't recognised. As far as getting involved, I'm pretty lucky. We've got a lot of great activists out there and I wasn't trying to be anything like that, but as far as being a musician… if I can help in any way I can for a cause I believe in then I'm going to do what I can. But as far as the heavy lifting goes, I'll leave that for people who know what they're talking about. As a musician, if I can put on some shows and raise awareness about this issue I'm happy to do that.
DV: So is this an issue you've felt very strongly about for a while?
Dan: Definitely, and particularly as the concerts have drawn closer. I'm not going to sit here and talk about something I don't know about – I'm not going to pretend to know about something I don't know about – I'm just leaning more and more. I was pretty intrigued, and now in 2012 there is a bit of action and there seems to be a push behind it, it's exciting. A lot of people may say it's the wrong time, but I don't particularly have an opinion about that.
I think any time to start raising awareness is good, whether we have the actual Referendum in six months or 18 months or two years, it just gives us more time to raise awareness about it. Whenever it happens it will be overdue anyway.
DV: You've always worn your Aboriginal heritage proudly on your sleeve, but this is perhaps the most directly political statement you've made as a musician…
Dan: I just think of all the people that are really fighting hard – and I'm fighting hard but in my own area – but yeah, being Aboriginal and having a profile sometimes you're expected to be fairly political. I'm not going to sit here and say that I'm not because I am, but I just do what I can, and I think that's all you can ask from anyone.
DV: How does it feel when you're about to go on tour?
Dan: It's good fun although it can get really tiring at times, but if you do the right things and look after yourself it doesn't have to be. It's a good excuse to cruise around and travel a bit with your mates and play a bit of rock'n'roll.
DV: Do you find you get nervous when you're about to perform live?
Dan: I always get really nervous. As a kid I never used to get nervous, but I don't know, the older I get…
DV: Another thing you've got involved in recently was the cover recording and celebration of the 30-year anniversary of the classic Goanna song "Solid Rock" – that must have been a buzz…
Dan: Look it's cool, Shane (Howard) and I have cruised around with the Black Arm Band for awhile and we've become really close – everyone in the Black Arm Band is really close. Shane's an incredible dude, you know? I think "Solid Rock" is a great tune, forget about the political stuff for a second, it's just a great rock'n'roll sound, the telecaster, didgeridoo, big ' 80s drums… It's a pretty cool sound, and also during the '80s our issues were a pretty hot topic – so at that time I think it was at the forefront and it was great timing – a great tune with a pretty cool message. No Fixed Address, Tiddas… there are a lot of amazing musicians in this country that have fought the fight and now I find myself in the position to contribute and that's something I'm proud of.
DV: Get Out While You Can was a massive success for you. You've won several ARIAs and your profile has gone through the roof… is it all still sinking in?
Dan: Yeah, I suppose it is, it's sort of been a long time between drinks, I haven't made anything in a long time and I'm looking to get something out again soon – I just needed some time off. There are a lot of people who can do it, but I was just having a bit too much fun, not giving myself much of a chance really. I needed a bit of time off to get my head straight, to get healthy, happy, inspired and positive. I feel really good and I'm looking forward to this next chapter.
DV: The Australian mainstream media seems to have really embraced you, too. Do you enjoy the media attention?
Dan: I think when things started heating up there wasn't much time to adjust, but it's all right. I think it all kind of becomes normal after awhile, and you go through long periods of time where you're doing interviews and just trying to get yourself out there. If you're lucky enough and things sort of work out, then you end up with people calling you for interviews. So it's been a nice natural progression, it's been really good. There have been some tough times and I'm sure there  will be more ahead, but I consider myself pretty lucky – and to be in a position where I can raise some awareness on a pretty full-on issue that affects me and my family and a lot of people… I feel very fortunate.