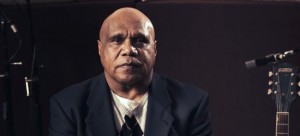 For iconic singer-songwriter Archie Roach, making the album Into the Bloodstream was a healing journey from grief, pain and an illness that would have normally kept anyone down. But not Archie Roach. Over the past two years, he has fought his way back and his new album may be the best yet.
In 2010, Archie lost his great love Ruby Hunter, and that year didn't get any better when he suffered a stroke while holding music classes for kids in the Kimberley. He needed a long period of rehabilitation as the stroke affected the right side of his body, including his guitar-strumming hand.
Then Archie began having chest problems and was diagnosed with the early stages of lung cancer. They had to remove half of one of his lungs.
For anyone to come back from such deep setbacks is nothing short of miraculous, let alone being able to make a rich, diverse and honest album like Into the Bloodstream.
"The main thing was just getting better and healing. The album lessened the weight I was carrying throughout the years, like a lot of my people carry the burdens," Archie says.
"But it wasn't easy to come back. With the support of family and friends who could see I wasn't doing well after I lost Ruby, and the encouragement from my manager, Jill Shelton, I did. Ruby's spirit didn't want me give up, even though I just wanted to stay down and not get up."
But get up he did and now he is grateful every day that he is alive.
Archie's hope for this album is to share his music and provide people with support, so that they can "take something away" from his music.
"It was part of my healing process. We all have to come out of our pain and suffering – and you can. It's achievable and things do get better. You also come to the realisation that you are worthy to be here," he says.
Another major driver for Archie for making his albums is to be able to share his music with others. "I was brought up to share whatever you had, whether it's food or something else. What you give, you get back, and sharing with someone else makes me feel good. Pass it on."
There is a quote on the album cover that describes the deep pain
Archie felt: "While doing this album,
I have learned to look at Pain differently. I know that Pain can make you sick, very sick! Pain can also bring about change in one's life for the better. We can choose to ignore the pain until it becomes unbearable or we can do something.
"I used to think that letting go of the pain was the only way of getting better but that may not be necessarily so. You see some events in my life I will never truly get over and the pain will always be there but I can do something about it."
Archie believes that the songs on the album help us to talk about the Pain, but he stresses that his songs are also joyous and uplifting. He has just released a video for "Song to Sing", which has a backing choir and features Uncle Jack Charles as a recently bereaved man who finds his way back to friends and community – and joy.
"Performing them makes you feel you want to get up and clap your hands. I suppose I have taken a gospel sound, which is a different sound for me, and the songs are uplifting," he says.
But there's vintage Archie Roach on the album in "Old Mission Road", a song that goes back to his Stolen Generation roots.
"[Being taken away] won't ever leave me," he says, "but when I sing that song, it gives me a certain amount of peace and puts me back there, on that Mission Road. Those memories will never go away, but I'm lucky I can write a song about it and share it. When I've performed it, I've had members of the Stolen Generations come up to me and say that song took me back, we love that song and it makes us feel better. That's what I'm trying to do, make people feel better."
But, of course, coming back from illness was not as easy as the end result – a wonderfully rich and moving album – would have you believe.
"It was very frustrating. I can play the guitar but not as I used to. Certain parts of strumming are difficult now, but you find your way round it and it doesn't discourage me," he says.
In 2011 Archie received a Red Ochre Award from the Australia Council for the Arts for his lifelong contribution to Aboriginal and Torres Strait Islander arts at both a national and international level. His status as a much-loved Aboriginal singer-songwriter among both his people and non-Indigenous people has surprised him.
"It wasn't what I was expecting. I am a pretty quiet bloke and at first I found it a bit intrusive, but people were talking to me, saying 'This is what this song meant to me'.
"I had no idea how my music affected people and I'm grateful now that I can still play and sing and enjoy music. And I'm gratueful to the people who listen to my music."