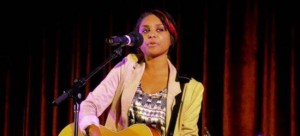 Up and coming Aboriginal singer and songwriter Anglee Little is a great example of having the confidence to just put your talent out there. She has been recording herself playing songs, posting them on Youtube and getting some great feedback along the way. Her postings reveal this young songstress has a beautiful voice and natural confidence.
The 19-year-old was born in Townsville but now lives in Bundaberg. She comes from a musical family, with her dad teaching her to play guitar when she was about 13.
"He taught me a few chords and I picked it up from there. Music comes naturally to us," Anglee says.
"I thought everyone could sing. In my family, everyone could sing. It was only when I put some songs on YouTube that I got that amazing feedback from people, including my friends who said: 'Oh my God, I didn't know you could sing like that!'"
Anglee has posted about
20 songs on YouTube. She records them on her phone, a webcam or a video camera. She also promotes herself and her gigs via Facebook.
From some of the songs she has posted it appears her influences are quite varied. There are covers of songs from Missy Higgins, Justin Bieber and Adele, to Taylor Swift, Norah Jones and Jason Mraz.
"I like to branch out and check out different artists and not just do the same stuff," she says.
"I really love all types of music. I don't focus on one genre or band or artist. I like to explore a whole range of music."
Anglee left school two years ago and works casually in a supermarket. She plays gigs wherever she can get them. She has performed at weddings, parties, private and community events, including this year's Bundaberg NAIDOC Ball.
She says she doesn't get nervous – even playing at big events like the NAIDOC Ball.
"I am never nervous.
It is something I love doing," she says.
Anglee has also recorded one of her original songs on YouTube called "Never Let You Go" and she hopes to write more songs in the future.
For the moment, she is fine to keep playing shows on the weekends and continue learning her craft, but she hopes to make a career out of music.
"I just want to get out there and share what I can do with whoever wants to hear it as well as travel and record. This is what I want to do with my life now. I am not depending on it, but if it happens it happens," Anglee says.