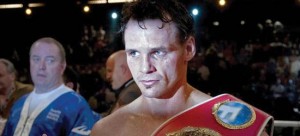 Deadly Vibe goes toe-to-toe with the rapidly improving gentlemAn of Australian and now international boxing, IBF middleweight world champion Daniel Geale, fresh from his latest title defence.
Deadly Vibe: Congratulations on your second successful defence of the world title – you must be pleased with the result and your performance.
Daniel Geale: Yeah thanks, we're doing things right, we've defended the title a couple of times now against quality opponents and we've got big things to come. I was happy with the way it went. I guess a stoppage might have been the icing on the cake, but to win in that fashion is always good against a number one contender. I never really had that much trouble and I felt great the whole way through the fight.
DV: You're clearly very proud of where you come from and you've now staged two world title fights in Tasmania, first in Hobart and now Launceston – how are you being received in your home town?
DG: It's always great to fight in Tassie – they've supported me since the amateur days which has been great and it was awesome to have the first defence down there, but to have another, it just topped it off for me. Hopefully I've repaid the people for all the support I've received over the years.
DV: You've stated that you've never boxed better or felt as strong during your career as you do right now, what do you attribute that to?
DG: I think it's because I want to push myself so much, but also, it's about having a great team. It's not only me pushing myself to improve all the time, but having people around me who want to be the best they can as well is also very important. In every preparation my coach Gary Shaw is finding things to do differently too. It just keeps getting better and better and at this stage I can't see us pulling up for a long time. I think it comes down to the drive. I haven't changed as a person but I want to do lots more in boxing. I want to try and show a different range of people that boxing can be a great sport, and at the Grange Gym where I train we've got so many young kids coming through, and being able to help and influence them has been massive for me. A lot of older ladies come up and say to me they don't like boxing but they like what I do, and what I stand for, and that gives me real motivation as well
DV: How important is the confidence you take out of these last two comprehensive wins?
DG: It definitely does help. When you're coming up against these guys I'll be facing in the next few fights, you do want to have the confidence up, but it's going to be tough as well and I still have to keep improving. I'm going to have to really step it up and get out of my comfort zone – I love fighting in Australia, but now I've got to go and beat these guys in their backyards and for me that's a massive challenge and something that I want to do.
DV: Who's the next opponent you have in your sights, and who is the dream fight?
DG: There's been talk about a few different opponents – I haven't been giving it that much thought. Jermaine Taylor has been thrown out there as a possibility for my first fight in the U.S., which sounds pretty promising, he's a great fighter and we both went to the 2000 Olympics, so that could happen. I'm looking at the top guys who are holding the titles – those are the guys I really want to fight.
DV: How much improvement do you feel you have left?
DG: I definitely think I've got room for improvement, there's a few bits and pieces to my game I'm still trying to fix up, when I jumped out of the ring the other night the first thing I said to my coach concerned a few of the technical things about the fight. There's always plenty of things to improve on. I think I've got another 20 to 30 percent of improvement to go. I'm feeling as strong as I've ever felt, I'm feeling fast, mentally I'm feeling very strong, hopefully that all stays together and I'm working on the technical skills, I'm always wanting to learn.
DV:Any thought of moving up to the super middleweight division at some stage, or do you see yourself as a middleweight for the rest of your career?
DG: I do see myself as middleweight for the rest of my career, in saying that I haven't gone about my weight the best way at times, but the preparation for my last fight was the best I've ever done it, the most comfortable, and throughout the fight I felt stronger and I think that's because of some of the little tricks I've been picking up to make my weight smarter and easier which is going to be a big help. It's all a learning process and if I keep doing it like that I'll definitely keep getting better and stronger throughout my fights.