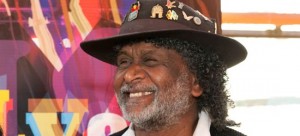 Pastor Ray Minniecon* is well-known around Redfern and greater Sydney. As such he was a perfect choice to be one of the faces of the I Quit Because campaign, an anti-smoking campaign that is making inroads into smoking by Indigenous people. The campaign website has a series of videos of people talking about their experiences of quitting smoking.
Pastor Ray has helped to establish Aboriginal churches in Sydney and Perth. He also worked for World Vision Australia's Indigenous Programs for 12 years and was its National Director for six years.
Ray has been off the smokes since 1974 and says he got off them because of the expense as well as health reasons.
"I'm now 62, but I quit over 30 years ago, when the cost of a packet of cigarettes got to 80 cents each. I thought that's it – they're getting too expensive," Ray says.
"And apart from the expense, I knew it wasn't doing my health any good. It was just one of those personal things that you come to realise and you say ok – I'm gonna quit."
But Ray says he didn't go cold turkey to stop smoking.
"I did it slowly. I went from a pack of cigarettes a day to the Drum rollies – they would last a week, but you got sick of rolling them and they were more expensive than the cigarettes, but the major reason was health."
Ray says he was invited to take part in the I Quit Because campaign when they contacted the Babana Aboriginal Men's group, which he helps run.
"They invited us to tell our stories and that is good because hopefully we can be good role models for the community," he says.
Ray says that although it is early days, there are positive signs that people are giving up smoking.
"Anecdotally, people are giving up or talking about giving up. Many people are now getting onto Nicotine Replacement Therapy such as patches. There is a real attempt to quit," he says.
"Everyone knows how bad smoking is for you, but it is a drug and it is hard to get off. I know the temptations are always there. I still sniff it in the street and the desire comes back and that is 30-40 years later."
The I Quit Because campaign is an initiative of the South Western Sydney and Sydney Local Health District Health Promotion Service.
Communications Program Manager from the service, Angela Balafas, says the idea behind using people's faces and stories in the videos on the website came from research that shows Aboriginal people identify with other people who have quit, rather than with more general health messages about quitting.
"This is why we have the slogan 'Be like us. Stop smoking and let your body heal," she says.
"All the material was thoroughly tested with members of the community in focus groups. Their comments were incorporated into the final material."
Angela says the goals of the campaign are to reduce smoking prevalence in the Aboriginal and Torres Strait Islander communities by 5 per cent by June 2013.
"We are trying to raise awareness of the harms of smoking, encourage quit attempts, promote use of nicotine replacement therapy (NRT), and increase access to quit services," she says.
"We are trying to secure external funding to expand the project and continue the project at a proposed larger scale up until 2015," Angela says.
For more information – or to look at the messages on the website go to iquitbecause.org.au
*Pastor Ray first came to Redfern in 1996, but he is from the Kabi Kabi people of South-East Queensland. He is also a descendant of the South Sea Islander people with connections to the people of Ambrym Island.