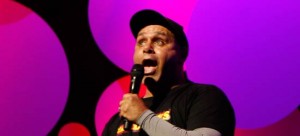 Aboriginal comedian Kevin Kropinyeri's star is certainly on the rise. He is performing a series of shows at this year's International Melbourne Comedy Festival and is booked out with comedy gigs until September. Not bad for a bloke who only started doing comedy "seriously" about three years ago. But according to his family, he has always been a funny bloke.
Since he won the National Final of the Deadly Funny competition in 2008, Ngarrindjeri man Kevin has been doing comedy all over the country. Apart from stand-up gigs, he has performed at festivals including Yabun, The Dreaming, Vibe Alive and the Deadly Awards as well as working in communities all over Australia.
"I have bookings right up until September. I have been very busy so far this year. I was meant to perform at The Dreaming Festival, but I had to cancel that because I needed some time with my family," he says.
Kevin says his next step is to become established on the mainstream circuit as: "a comedian who happens to be Aboriginal, rather than strictly as an Aboriginal comedian."
And his shows at the International Melbourne Comedy Festival are certainly going to be great exposure for him.
"I am doing 22 shows at the International Melbourne Comedy Festival. Every comic who goes there wants to be in the Town Hall and I am – with a 7pm time slot in the Backstage Theatre, a 65-seat room," he says.
"It is my first solo show so I am looking forward to it. I have had three years to fine tune my craft for a wider audience and I am ready for it."
He says he wants to show the rest of Australia how funny his mob is, but is conscious of the differences between Indigenous and mainstream comedy.
"There are major differences – different ways of talking, there is that cultural barrier and a different sense of humour. What is funny for blackfellas is not necessarily funny for non-Indigenous people. Our brand of comedy is different. I have to tweak and re-word our comedy to make it funny for the non-Indigenous community," he says.
"I have told jokes before that have had Aboriginal people laughing out loud, while the non-Indigenous people in the audience were squirming a bit in their seats and not quite sure whether to laugh or not. We have always had a way of laughing at ourselves.
"Early on in my comedy career there were a few ways I could have gone and one of them was the 'let's beat up a whitey humour', but I decided that there wouldn't be much tenure in that, so what I do is invite everyone into the funny world of being an Aboriginal person."
Kevin says his comedy style has been influenced by comedians such as Russell Gilbert, Carl Barron, Mick Molloy, and Sean Choolburra.
"Sean is the reason I got into comedy in the first place. I saw him perform at the 2007 Deadly Awards – warming up the crowd – he had them in stitches and I thought, I can do that. Then I went into a comedy competition (Deadly Funny) and ended up winning it," he says.
"The Deadly Funny Competition is the Indigenous component of the International Melbourne Comedy Festival. They have heats in every state to find out Australia's funniest blackfella. I got a wildcard into the National Finals from the South Australian heat."
He also appeared at the Deadly Awards last year, warming up the crowd.
"The bigger the crowd, the more flamboyant I get. I think the smaller crowds are harder to work. I love the big stage. My mob love to be entertained with our own brand of comedy," he says.
Apparently Kevin has always been a funny bloke.
"My family says I am travelling around Australia, getting paid to make people laugh – but we have been getting free shows all of our lives. Our mob is just funny. The whole Ngarrindjeri nation is known for being funny, but I never thought I would travel around Australia and make a living off my mouth," he says.
Despite his plans to break through to the mainstream comedy circuit, Kevin says he will always do community work such as his work for Vibe Australia where he goes around the country performing at Vibe 3on3 and Vibe Alive Festivals.
"I will always do community work.  It is about building bridges rather than widening the divide. I am also passionate about being a good role model and I have worked in youth detention centres," he says.
Surprisingly for a comic, Kevin is also a religious man and this helps him keep his comedy clean.
"I do have a faith, yes. This is one of the reasons why I keep my comedy clean. I don't swear. I am not crude. I did a show in Queensland recently that had about 60 kids in the audience and I had them in stitches. At the Vibe Alive festivals you are often performing in front of about 2000 students. Just to be able to go onstage and have kids and adults and family laughing together – that to me is rewarding. If you're smart and funny you can be funny without being crude," he says.