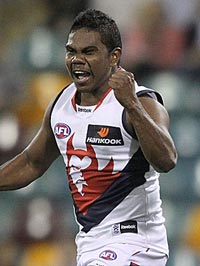 Not long ago, Austin Wonaeamirri was one of the AFL's most promising developing stars, but after enduring the toughest year of his life in which his father passed away, the 22 year old now faces the challenge of rebooting his footy career.
The good news is that Austin has already taken the first step in that direction, suiting up for the Demons' VFL affiliate club following an extended leave of absence. The bad news is that Austin injured his ankle in his first game back, and will now undergo surgery. In spite of the injury blow, Austin is looking forward to the 2012 season with renewed confidence.
"I have had a tough year, with Dad passing away, that really got to me mentally," says Austin, who was also rocked during the year after the passing of Aboriginal AFL legend, mentor and fellow Melville Islander, Maurice Rioli.
"But I'm glad I went home to connect again with the family and the sorry business. Now I'm back training with the boys, doing what I love doing," he said.
Austin kicked 37 goals in 31 games for Melbourne, so the Demons are understandably keen to see Austin back to his entertaining best.