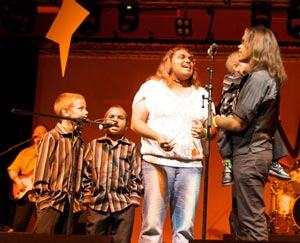 There is some great indigenous music coming out of Australia's top end these days, and the National Indigenous Music Awards (NIMAs) are here to celebrate it.
The NIMAs have been running for eight years, and this year they are broadening their base to include the three national categories of Best Act, Best Album and Best Song.
Music NT Manager and coordinator of the awards Mark Smith reflected on the history of the industry-based awards, the NIMAs, recently. He says the awards were established initially as a direct response to the tyranny of distance in the Top End.
"There was a lot of great music happening around the Northern Territory and remotely, but because of distance and cost it was really hard for these musicians to get their material to a wider audience," Mark says.
"The NIMAs were established as a platform to try and bridge that gap and showcase their music in a high-quality setting.
"At the same time, some of those obstacles have become less, with Internet and other things breaking those barriers down, too."
Mark says the music scene in the NT has really been developing over the past couple of years.
"There is a lot of amazing music happening in the Territory. The scene has grown with the likes of Gurrumul and Jessica Mauboy, and this year we also have Frank Yamma, Dan Sultan, Iwantja Band and The Medics from Queensland involved in them. The national audience is starting to sense there is something happening up here.
"There is some amazing talent in the Top End and it feels like there is a resurgence of Indigenous music nationally. There is a spark up in people making albums and getting out on tour. The success of Gurrumul and how he is still living remotely shows it can happen and that there is a pathway for that now – there is a chance. It doesn't seem like an impossible mission anymore."
Mark says Music NT aims to support the development of original music in the Territory through the awards, as well as through their day-to-day dealings with musicians from their offices in Darwin and Alice Springs.
"We help identify these bands and then work with them to help them achieve what they want to, through putting them in touch with people and opening up funding opportunities for them. We work with the bands to increase their skill levels so they can take those next steps in their career.
"We don't help one band over another. We have programs set up to help all sorts of musicians. Each band has their own goals and we try to have things in place to help them."
Mark says the decision was made to expand the NIMAs with three national categories this year to broaden the awards. He is also working closely with established people in the industry, such as the Deadly Awards' Executive Producer Gavin Jones.
"The NIMAs and Deadly Awards are working together for the betterment of the industry. The NIMAs are another opportunity for musicians to be recognised. We want to maintain a strong association with the Deadlys. This is an extra way musicians can be recognised."