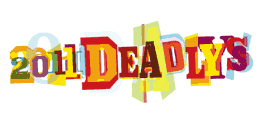 Deadlys nominations have now closed, with a good representation of nominations across the award categories. Organisers will announce finalists on 15 July 2011.
Once finalists are announced on 15 July, the top four nominees in each award category will go out for public vote.
"We are anticipating announcing some strong contenders in each award category, so keep following our Deadlys news and we'll let you know how and when you'll be able to vote on our finalists," Executive Producer Gavin Jones says.
"Each year the Deadlys endeavour to reflect 'the year that was' in Aboriginal and Torres Strait Islander Australia and there are great examples of Aboriginal and Torres Strait Islander achievement and contribution across all award categories. Winners will be announced at the Deadlys which will be held at the Sydney Opera House on 27 September 2011."
The purpose of the Deadlys is to recognise the contribution of Aboriginal and Torres Strait Islanders to their community and to Australian society. There are 25 award categories across music, sport, the arts, community and the Deadlys Hall of Fame.
And don't forget, we'll be announcing our Deadly nominees on the 15 July 2011. To keep up to date with all our news on the Deadlys, go to www.vibe.com.au
For all media enquiries, please contact Maryann Weston on (02) 4822 8230 or [email protected]