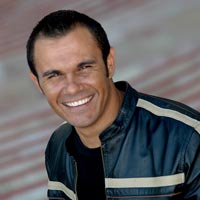 The 2011 Deadly Awards will be hosted by two of Australia's brightest and well-known stars, television actor Aaron Pedersen and singer/songwriter Casey Donovan.
The Deadly duo are both past Deadly Award winners and role models for Indigenous people and the wider Australian society through their work on Australian stage and screen, and as advocates within their community.
Aaron is best known for his roles in high-profile television dramas – most recently playing Detective Senior Constable Duncan Freeman in City Homicide while Casey's ever-evolving star has been firmly on the rise since her remarkable performance in last year's hit musical, The Sapphires.
"Both Aaron and Casey are tailor-made for the Deadlys centrestage which will be held for the 10th year running at Australia's landmark Opera House, on 27 September," Deadly Awards Executive Producer Gavin Jones says.
"Not only are they wonderful role models for our young people, but they are also respected and gifted talents in their own right. I know they will bring a special flavour to the Deadlys this year, and I'm looking forward to their performances – hosting the Deadlys is a special job and I think it's a good fit for Aaron and Casey."
Aaron's connection with the Deadlys goes back to 2003, when he won Male Actor of the Year. He won it again in 2007 and also received a nomination for Outstanding Achievement in Film for the documentary My Brother Vinnie.
Casey shot to national stardom in 2004 as a 16 year old winning Australian Idol. That year she also accepted her first Deadly Award for Most Promising New Talent in Music and has maintained a close association with the Deadlys ever since, bringing her powerhouse vocals to the Opera House centrestage with her spine-tingling performances.
Deadly Award finalists have been announced and voting in Australia's largest Indigenous awards night is now open at www.vibe.com.au. Strong finalists across all award categories have ensured the Deadlys will be a night to be remembered.
"As always, I think there are going to be lots of surprises," says Casey.
Tickets to the Deadlys are on sale through the Opera House booking office (02) 9250 7777 or email [email protected]: Ceremony Only – Adults: $45; Concessions: $30; Groups 10+: $30; Ceremony + After Party: $75.
The Deadly Awards will be broadcast on SBS One on Sunday, October 2 at 9.30pm and repeated on SBS Two on Saturday, October 8 at 7.30pm.
Vibe Australia produces the Deadlys awards, Vibe Alive, Vibe 3on3, In Vibe, Deadly Vibe, Deadly Sounds and Deadly TV. For more information about products: www.vibe.com.au
For all media enquiries, please contact Maryann Weston on (02) 4822 8230 or [email protected] or Jake Keane on (02) 9361 0140, [email protected]