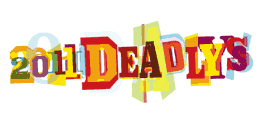 Back in June, we put the call out for you to tell us who's deadly in 2011, and we received thousands of nominations from all over the nation. Follow the links below to read all about your Deadlys' finalists.
The Deadlys class of 2011 is an amazingly talented and inspirational bunch – high achievers in music, sport, health, education, broadcasting and the arts. But alas, there can only be one winner on the night, and so now it's back to you, the community, to decide who'll walk away with a Deadly come September 27.
Happy voting you mob – and congratulations to all of this year's truly deserving nominees.
(Click links below for info on each nominee)
MUSIC
Most Promising New Talent in Music
Benny Walker – VIC
Corey Webster aka Yung Nooky – NSW
Karnage & Darknis – SA
Knowledge Bones – WA
Iwantja Band – NT
Gurrumul Yunupingu – Rrakala – NT
Leah Flanagan – Nirvana Nights – NT
Buddy Knox – Buddy's Blues – NSW
Stiff Gins – Wind & Water – NSW
Busby Marou – Busby Marou – QLD

Single of the Year
Street Warriors – Summertime – NSW
Knowledge Bones – Yeah Dard – WA
Last Kinection – Happy People – NSW & QLD
Yung Warriors – Just a Thought – VIC
Briggs – The Wrong Brother – VIC
Dale Huddleston and Riverbank Band – ACT
Last Kinection – NSW & QLD
Black Image – QLD
Dubmarine – QLD
The Medics – QLD
Dan Sultan – VIC
Buddy Knox – NSW
Gurrumul Yunupingu – NT
Troy Cassar-Daley – NSW
John Bennett – WA
Jessica Mauboy – NT
Naomi Pigram – WA
Deborah Cheetham – NSW
Casey Donovan – NSW
Shellie Morris – NT

SPORT
Tahj Minniecon – Soccer – QLD
Fred Mundraby – Boxing – QLD
Shane Parker – Wrestling – NSW
Thomas Boyle – Muay Thai – SA
Tanisha Stanton – Netball – NSW
Andrew Walker – Carlton
Chris Yarran – Carlton
Liam Jurrah – Melbourne
Leroy Jetta – Essendon
Stephen Hill – Fremantle
Kirby Bentley – AFL – WA
Kyah Simon – Soccer – NSW
Rohanee Cox – Basketball – WA
Ashleigh Barty – Tennis – QLD
Meghan Rutledge – Motocross – NSW
Benn Harradine – Discus – NSW
Daniel Geale – Boxing – TAS
Patrick Mills – Basketball – ACT
Kurtley Beale – Rugby Union – NSW
Des Abbott – Hockey – NT
Ben Barba – Bulldogs
Jharal Yow Yeh – Brisbane Broncos
Jamal Idris – Bulldogs
Chris Sandow – Rabbitohs
Johnathan Thurston – Cowboys

THE ARTS
Rarriwuy Hick – Wrong Skin (play) – NSW
Deborah Mailman – Offspring – QLD & NSW
Marcia Langton – Here I Am – VIC
Pauline Whyman – Here I Am – VIC
Shai Pittman – Here I Am – NSW
Aaron Fa'Aoso – East West 101 – QLD
Jack Charles – Jack Charles v The Crown – VIC
Aaron Pedersen – City Homicide – VIC & NT
Dean Daley-Jones – Mad Bastards – WA
Richard Green – Snowtown – NSW
Albert David – QLD
Kathy Marika – NT
Darren Compton – NSW
Medika Thorpe – NSW
Deborah Brown – QLD
De Greer-Yindimincarlie – QLD
Michael Cook – QLD
Helen McCarthy Tyalmuty – QLD
Jandamarra Cadd – QLD
Lisa Michl – QLD
Kim Scott – That Deadman Dance – WA
Gayle Kennedy – Yarning Strong Series – NSW
Brenton E McKenna – Ubby's Underdogs – WA
Anita Heiss – Paris Dreaming – NSW
Sally Morgan – Charlie Burr and the Three Stolen Dollars – WA
Shifting Shelter 4
Here I Am
Mad Bastards
Jandamarra's War
Toomelah
On the Edge – NITV
Living Black – SBS
Marngrook Footy Show – NITV & ABC
The Barefoot Rugby League Show – NITV
Yamba's Playtime – Imparja Television

COMMUNITY
Aboriginal & Torres Strait Islander Health Worker of the Year
Craig Bloxsome, Therapeutic Residential Care Program, Anglicare Tasmania
Muriel Jaragba, Aboriginal Mental Health Worker, Groote Eylandt, NT
Alice Taylay, Wujal Wujal Primary Health Care Clinic via Cooktown, QLD
Sharyn Medway, Aboriginal Didgeridoo/Art Project, Goulburn, NSW
Colin O'Donnell, Health Worker, Maari Ma Primary Health Care Service, Broken Hill NSW

Outstanding Achievement in Aboriginal and Torres Strait Islander Health
Western Desert Kidney Health Project – Kalgoorlie WA
NPY Women's Council (Ngaanyatjarra Pitjantjatjara Yankunytjatjara Women's Council Aboriginal Corporation) – "No Safe Amount – The Effects of Alcohol in Pregnancy" – Alice Springs NT
Yamba Roadshow, Imparja Roadshow – Alice Springs NT
Aboriginal Research Health Promotion Strategy – Groote Eylandt NT
Maari Ma Health Worker Trainee Program – Western NSW

Outstanding Achievement in Aboriginal and Torres Strait Islander Education
Barbara Tapsell – Aboriginal & Islander Education Worker, Darwin High School NT
Abergowrie College – QLD
Daniel Fusi – Menindee Central School – Western NSW
Deadly Ute Project – through Wimmera Hub, Horsham VIC
Charline Emzin-Boyd, Aboriginal Education Coordinator, NSW Teachers Federation, NSW

Outstanding Achievement in Aboriginal and Torres Strait Islander Employment
Brian Dowd – Black on Track – NSW
Charles Williams – Crown Ltd – NSW
MEGT, Indigenous Apprenticeship & Trainee Network – NSW
NSW Health – Nursing and Midwifery – NSW
Andrew Jackomos – Justice Department – VIC
Bernard Namok Jnr – Top End Aboriginal Bush Broadcasting – NT
Kevin Ebsworth – Top End Aboriginal Bush Broadcasting – NT
Anthony Brown – 3KND, 1503AM – Melbourne, VIC
Mark Ross (Munkimuk) – Koori Radio 2LND, 93.7FM – Sydney, NSW
Karla Hart – Noongar Radio, 100.9FM – Perth, WA