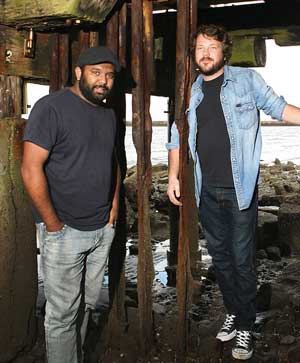 Working from separate rooms on either side of the world didn't stop the famous songwriting duo of bernie taupin and elton john from belting out the lyrics and music to many great songs.
Now two blokes who grew up in Rockhampton are also proving that a musical collaboration by distance can not only survive, but also pave the way for great success.
The talented members of Busby Marou, Thomas Busby and Jeremy Marou, live in different cities – Brisbane and Rockhampton – but their musical partnership is going from strength to strength. They have recently been signed to a major recording company and they have also embarked on their first national tour this month.
The winners of last year's Deadly Award for Most Promising New Talent, Busby Marou, have been busy recently: releasing their debut album, getting signed to a major recording company and starting a national tour.
Thomas Busby sings and plays guitar, while Jeremy Marou plays guitar, ukulele, bass, drums and everything else. Together they sing great harmonies, reminiscent of Crowded House.
The roots and rock duo finished their self-titled album last August and now the folk duo has been signed to Warner Music Australia.
"It's been exciting. It is a dream come true to be signed by a major label like Warner, so we are enjoying the ride at the moment," says Jeremy.
"In fact it's been so busy, we haven't been really able to settle down and take it all in."
Jeremy says the recent success came about after their album got a four-star review from Bruce Elder in the Sydney Morning Herald.
"As a result we got a call the next day by former General Manager of EMI, John O'Donnell, who asked us to play on a Finn brothers' tribute album," he says.
They played the classic song "Better Be Home Soon" on the tribute album entitled He Will have His Way – The Songs of Neil and Tim Finn.
Now they are living the rock-star dream, with a major label behind them pushing their album into stores nationwide.
"We feel ourselves fortunate and there is a touch of luck in it. It has fallen into place at the perfect time," Jeremy says.
But the recent success has really been the result of years of hard work and self-belief.
Back in 2009, the boys were successful applicants for 'Breakthrough' – A Federal Government initiative supporting emerging Indigenous contemporary musicians. The award helped them produce their self-titled album.
The album reached number four on the Australian Independent Music Charts in December last year and has remained in the top 20 in the songwriting category on the iTunes charts since September 2010.
Last year, the boys told national music radio show Deadly Sounds how they recorded the album in Yeppoon to get that relaxed feel about it.
"Most of our songs were written about home, or memories or places that we love and it's all really laidback, folky-pop sort of tunes," Thomas said.
"So we went back home and it was the best move, it was so relaxed. We were there for a couple of weeks, we already had the songs nutted out, so we were just laying tracks down, laying the vocals down and Jeremy the guitar and bass work. So it was a great process and great fun, and we got to stay at home as well and catch up with family while we were there."
Meanwhile, despite the increasingly fast trajectory of their musical career, Jeremy still lives in Rockhampton and holds down a full-time job at the Fitzroy Basin Elders Association, which looks after Elders and runs Landcare and youth programs.
"I still live in Rockhampton and Tom lives in Brisbane. My family is here. Tom does music full-time now, but I love working for the Elders and the job is quite flexible, so I can keep playing music," he says.
The two musicians grew up in Rockhampton, but kept their musical links up after Tom studied law at university in Brisbane.
"We have definitely racked up some frequent-flyer points on the airlines!" Jeremy says.
Jeremy says work and family keep him in "Rocky": "I have three young children in Rockhampton so my family and job keep me here – but they are very supportive of what we do."
The month-long national tour started on 1 July in Brisbane at the Old Museum. They are also playing Sydney, Melbourne, Adelaide, the Hunter Valley and regional NSW.
"This is the first tour that we have headlined and it is great. We enjoy playing live and we have a great backing band of session musicians," Jeremy says. "The future is looking good. Warner believes in our music and the distribution a major label can offer makes a massive difference.
"That said, we appeal to a wide audience, so we can play at the Byron Bay Bluesfest or support Alan Jackson on his tour or whatever."
Jeremy's advice for budding musicians is to remember why they picked up that guitar or started singing in the first place.
"We do it for the love of music. We enjoy sitting down and playing a song, whether it's in front of a microphone or not. You can lose your way if you don't enjoy it.
"I'm from a big Torres Strait Island family and it is just our culture to have a singalong around a campfire. It's just that other people are recording it now."