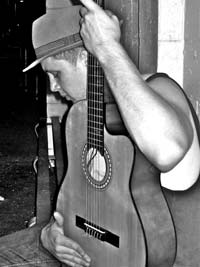 Through funky rhythms and inspirational lyrics, 23-year-old Corey Theatre has created a soulful repertoire, delivered with his trademark husky vocals and Delta-blues style guitar playing.
Corey has recently finished studying at the University of Adelaide's Centre for Aboriginal Studies and Music (CASM), a place that he says helped shape his style.
"Originally, I was just playing guitar, but when I went to CASM that's when I found my voice and started singing and getting more into it," he says.
The other person who was instrumental in Corey's development as a guitarist was his uncle, and he lists his major musical influences as the old, great blues artists like Robert Johnson.
Corey's also just recorded his debut EP, due out next month, and says that his music reflects everyday life.
"I try to convey a positive message about things. The blues has traditionally been a sad music, but it's also a coping mechanism to help you through stuff," he says.
He's also fascinated by the role music can play in healing and is now studying psychology as part of a Madalah (Making A Difference And Looking Ahead) Scholarship that he has gained.
"I am interested in music and how it can help people recover through things like music therapy," he says, "I want to run workshops and show people how music has helped me get through things."
This month you can see Corey play at the NAIDOC Family Fun Day on 8 July at Torrens Parade Ground, Adelaide.
Check out Corey's music at www.facebook.com/CoreyTheatre or www.reverbnation.com/coreydavid