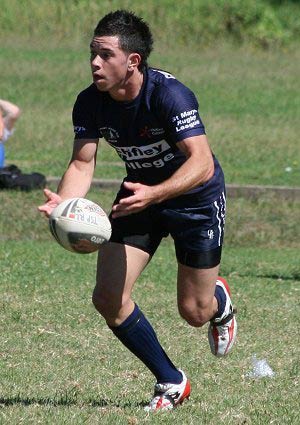 The Penrith Panthers are noted for having one of the largest talent pools in all of rugby league to draw upon in their heartland of Western Sydney. One local player who's been busy making his way through the grades is Michael Compton – a 19-year-old league player with a very bright future.
Michael is from the Mt Druitt area of Western Sydney and has been playing rugby league since the age of five. He is currently playing for the Panthers' Toyota Cup side (Under 20s), and he has his sights set on playing first grade for the Panthers. To do that, he's been making plenty of sacrifices to focus on his footy and also training hard to gain weight.
"I still need to get a bit bigger. I am 86kg and I need to get into the 90kg range," Michael says.
"I go to the gym four days a week and try to eat healthily ? I eat a lot of protein and stay away from fatty foods."
Apart from this painstaking training schedule, Michael works as a teacher's aide at Plumpton Primary School and says he enjoys working with the kids.
In his limited spare time, Michael is also a dancer with his brother Darren in the Doonooch Dance Company. This dance group, formed by Bobby McLeod in 1998, always gives an electrifying and powerful performance that promotes traditional Aboriginal culture.
Rather than sledging him for his dancing, Michael says his footy mates wish they could dance like him.
"Dance helps with agility and movement. It helps with my step," he says.
Known for his pace, Michael usually plays on the wing or at fullback.
He finished school two years ago and completed the Training Pathways Program.
While at school he played in the undefeated Chifley College side in the ARL State Championship competition last year. The Panthers describe Michael as a great role model. He is the captain at Chifley College School and is showing great leadership skills. Michael's advice to other young footy players who want to make it to the big time is, "If you love what you do, then keep doing it."
Well done, Michael, and keep up the good work!