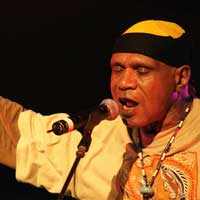 To celebrate NAIDOC Week 2011, Marrickville Council and ANTaR Australians for Native Title and Reconciliation, will present a special screening of the film MURUNDAK: Songs of Freedom as well as a live performance from Emma Donovan of 'The Black Arm Band'.
The performance and screening will be held at the DENDY Newtown on Wednesday 6 July from 7pm.
MURUNDAK: Songs of Freedom follows 'The Black Arm Band', a gathering of some of Australia's finest Aboriginal musicians, as they take to the road with their songs of struggle, resistance and freedom.
The film features footage of pioneering singers such as Archie Roach, Bart Willoughby and the late Ruby Hunter, as well as emerging Indigenous talent like Dan Sultan, Shellie Morrie and Emma Donovan. Emma will perform live before the screening, and share some of her experiences from making the film. She has performed to audiences worldwide, using her rich soulful voice to contribute to global understanding of Aboriginal culture and spirituality. She includes her traditional language Gumbayngirr in her songs.
Mayor of Marrickville Councillor Fiona Byrne said the evening is an important opportunity to learn more about the history and experiences of Aboriginal and Torres Strait Islander people.
"Council is delighted to partner with ANTaR in presenting this film screening and performance as part of Marrickville Council's 2011 NAIDOC Week activities," Councillor Byrne said.
"I'm especially pleased that ANTaR will use this occasion to encourage people to be involved in the 'national conversation' on Constitutional Recognition of Australia's first people. The Australian government is currently holding extensive consultations aimed at improving the constitution to better reflect modern Australian values, and I'm optimistic that Marrickville residents can contribute positively to that process."
NAIDOC Week 2011 is a celebration of the history, culture and achievements of Aboriginal and Torres Strait Islander peoples and the contribution they make to the community. This year's theme for NAIDOC Week is Change: The next step is ours. Bookings are essential as places are limited. Please RSVP to [email protected] to reserve your place.