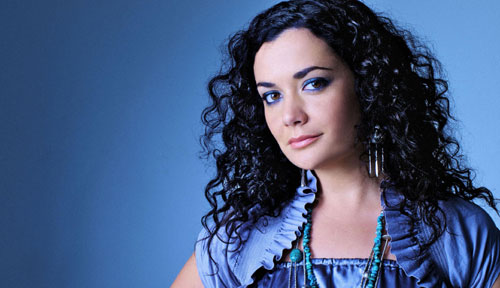 From performing her own songs at Darwin's local music hub the Nirvana Restaurant, to now releasing her first album Nirvana Nights at the recent Darwin Festival, music has been a natural progression for singer/songwriter Leah Flanagan.
"The launch was fantastic! I'm really, really happy with how things worked out for the album. This is my album on my own without my usual band, I wrote the songs and it comes from more of a songwriter's perspective," said Leah.
Nirvana Nights was recorded by Leah in Melbourne with musical collaborators that she says are also dear friends. It was produced by Stephen Schram and features Liz Stringer who she described as 'her best mate in the whole wide world and as one of the greatest musicians, instrumentalists, vocalist and songwriters in the country,' and is also someone who inspires her greatly. In fact, one track on the album recorded by Leah titled 'Innocent Hearts' is written by Liz.
With her debut album, Leah says they just wanted to create something beautiful.
"We didn't really have a lot of expectations. We just wanted to make the songs have a beautiful warm quality," said Leah.
Indeed they do, the stories told on Nirvana Nights are vignettes of Leah's life. The title track is about a little music venue in Darwin called the Nirvana Restaurant that has been supporting local musicians in Darwin for nearly 15 years. It's a place where Leah has performed often and also worked as a waitress.
Another track, 'September Song' is about the little things in life that make one happy, and was inspired by a boat called the Day Marie that Leah has sailed on numerous times in the Darwin harbour. She explains it's about being with friends and being in love. Like the title track, it features the ukulele which gives a tropical, laid back vibe to the music and makes you feel as though you're right there sailing along with her.
While 'Goodbye' is one of the more melancholy tracks off the album, it's one that Leah says is very special to her, and is all about losing someone that you love dearly, wishing you could do anything to change it. Leah says unfortunately – life doesn't always work out that way.
Having recently finished up a national tour to promote the album with shows in Sydney, Melbourne, Brisbane, Canberra and Adelaide, Leah has earning some great reviews.
Being a self managed artist, she says there's still a lot that she needs to do to become a successful business person, however, she manages her music career along with her day job which is promoting Aboriginal arts and crafts at the shopfront for the Aboriginal Bush Traders outlet in Darwin.
"It's always hard to try and balance both worlds. All I want to do is just write more music, that's my next plan. I've always been a fairly musical person, I have studied, I've got a degree in music and overall I'm a music appreciator. It just consumes me, it's my everything, so it was a natural progression to become a musician," explains Leah.
Performed with the Black supergroup the Black Arm Band at the Winter Olympics in Vancouver in Canada this year has piqued her interest in performing internationally.
"Primarily I just want to write more and play more music," she says.
"I'm looking into some overseas work. So if anyone who runs a festival overseas wants to book me, that's fantastic. It'd be great to go to Canada again and meet more of the first nation's mob there. It's something I would really like to do. We'll see how we go."
For more information about Leah or to hear tracks from Nirvana Nights see Leah's website at: http://www.myspace.com/leahflanagan