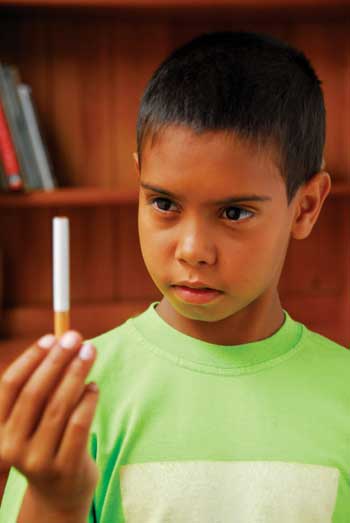 In a national first, a new hard hitting advertising campaign urging Indigenous Australians to break the chain and quit smoking hit the airwaves, newspapers and TV screens today as the Gillard Government continues its world leading action to combat tobacco use.
This campaign depicts a young Indigenous woman reflecting on her own experience of having lost family and friends to smoking related diseases and how she doesn't want her own children to think dying early from smoking related diseases is normal.
In launching the new campaign, Minister for Health and Ageing Nicola Roxon and Minister for Indigenous Affairs Warren Snowdon called on Indigenous Australians to break the family chain and kick the lethal habit.
"This campaign addresses the harsh reality that 1 in 2 Indigenous Australians smoke, and 1 in 5 will die from smoking related diseases," Minister Roxon said.
"The statistics are alarming, but the message is simple: break the chain and give up a habit that will kill you."
Minister Snowdon said that smoking alone accounts for around 20 per cent of all Indigenous deaths, and it's the number one cause of chronic conditions and diseases such as cancer and cardiovascular disease among Aboriginal and Torres Strait Islander people.
"Smoking kills. It's that simple and the Gillard Government is not going to stand back when death and disease caused by smoking can be prevented.
"Our Government is committed to halving Aboriginal and Torres Strait Islander smoking rates by 2018. This campaign with complement our new tobacco health workforce which has already been rolled out across in the first 20 of 57 regions around Australia," Mr Snowdon said.
This is also significant because it is the first Indigenous-specific television commercial as part of a national health campaign.
The newly launched campaign is part of the Gillard Government's world leading anti-tobacco measures including subsidised or free nicotine patches, proposed plain-paper packaging, raising the tobacco tax excise in the last Budget and locating Indigenous Tobacco Action Workers in 57 regions across the nation.
Dr Tom Calma, National Coordinator, Tackling Indigenous Smoking, welcomed the campaign that reflects the life circumstances confronting the majority of Indigenous Australians.
"One in two of our people smoke and one in five die from smoking related diseases. This anti-smoking campaign is providing information and support to help our people make informed choices to give up smoking and address unhealthy behaviours," Dr Calma said.
For help to quit smoking, people should consult their doctor or pharmacist, call the Quitline on 13 78 48 or visit the Quit Now website at www.australia.gov.au/quitnow