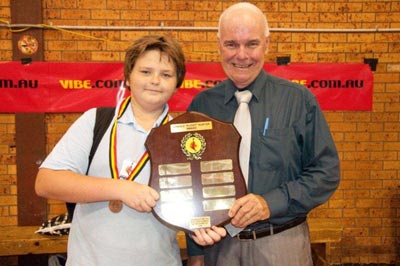 More than 300 young people descended on the Bateau Bay PCYC for the second National Indigenous 3on3 Basketball and Hip Hop Challenge – the Vibe 3on3® on Friday. Over 60 teams from 15 schools around the region attended to compete for the many prizes on offer.
After claiming the prize last year for having hosted the largest event in the 3on3's 11 year history, Vibe had to cap numbers this year at Wyong, making it a very exclusive event for the young people of Wyong Shire.
After a Welcome to Country by Jenni McEwen, dance performances by Gorokan Dance Group and Northlakes High Dance Group were a highlight of the Opening Ceremony.
Dignitaries attending the Vibe 3on3® opening included Ms Sue Mueller representing Federal Member for Dobell the Hon Craig Thompson MP, Wyong Shire councillor Lisa Matthews and Mingara Leisure Group Community Services Manager John Millard.
Wyong's Deputy Mayor Bob Graham presented prizes to the day's winners at the Vibe 3on3® closing ceremony.
Performances by Last Kinection and Amy Minchin from the local Indigenous dance school NAISDA, got the day off to a great start.
Indigenous and non-Indigenous young people interacted with role models on the day, including Trent Lake of the NSW Waratahs, former Australian rugby union 7's player Matt Sonter and Black Diamond Claude Williams.
A highlight of the event was the health expo where the Lake Haven Recreation Centre ran an obstacle course and The Entrance's Tigers Rugby League team performed some expert drills.
"We'd like to give a big thankyou to the local organising committee and our local sponsors," event producer Mayrah Sonter said. "Without their help, the day would not be possible."
Local sponsors included the Mingara Recreation Club, Rotary Club of Terrigal, Top Cut Foods Newcastle, Fruit For All Berkley Vale, Killarney Vale Bakery and Bakers Delight Bateau Bay.
The Vibe 3on3® would also not be possible without its sponsor the Department of Health and Ageing, through the Office of Aboriginal and Torres Strait Islander Health, and Vibe Australia. Supporters include the Koori Mail, Deadly Sounds and Deadly Vibe.
For media enquiries, interviews or photos please call Mayrah Sonter at Vibe Australia on (02) 9361 0140 or email on [email protected]
Photo Caption: Winner of the Puggy Hunter Award Tyler Howie with Mingara Leisure Group Community Services Manager John Millard.
Wyong 3on3 – Friday 18th February 2011 – Winners
BOYS JUNIOR
Team Name: Kangawalla Foxes 1
1. Des King
2. Ashton Harding
3. Elliot Jones
4. Josh Myers
5. Avia Holtsbaum
6. Jayden Winters
7. Ricky Duncan
Presenter: Matt Sonter
Organisation: Elevation Foundation
BOYS MIDDLE
Team Name: Kangawalla Foxes 3
1. Josh Gainsford Herring
2. Jayden Holman
3. Damien Holtsbaum
4. David Holtsbaum
Presenter: Annabelle Celloe
Organisation: Sydney University Medical School

BOYS HIGH
Team Name: BVC Harts
1. Brody Hart
2. Lachlan Hartup
3. Jesse Ruthford
4. Kayden Woodhouse
5. Joshua Clechanowicz
Presenter: Ben Fitzsimmons
Organisation: Lake Haven Recreation Centre

BOYS SENIOR
Team Name: Northies 3
1. Jermaine Cavanough
2. Raymond Marsh
3. Cailan Kolster
4. Jalum Duncan
Presenter: Deputy Mayor Bob Graham
Organisation: Wyong Shire Council
GIRLS MIDDLE
Team Name: Kanwal Kids
1. Layla Lake
2. Treiahana Lake
3. Shania Goolagong
4. Brianna Fodham
Presenter: Cathy Ross
Organisation: Bateau Bay PCYC

GIRLS HIGH
Team Name: BVC Stars
1. Sharni Aston
2. Abbey Jacobs
3. Caitlin Warr
4. Mickayla Smith
5. Lauren Ferrington
Presenter: Gail Lake and Trent Lake
Organisation: Wyong Local Committee and NSW Waratahs
GIRLS SENIOR
Team Name: O.M.G's
1. Jesse Milajew
2. Sharni McCann
3. Danielle Gilchrist
4. Bianca Brown
5. Kim Markwort
Presenter: Jenny McEwan
Organisation: Darkinjung Community Elder
RAP COMPETITION
Team Name: Tha Bomb
1. Sean Pescud
2. Mason Craig
3. Jake Ella
4. Jarvis Lake
Presenter: Naomi Wenitong
Organisation: Last Kinection
ARTHOUSE
Team Name: Cessnock High Gilrs
1. Cora Williams
2. Sara Miller
3. Tiarni Mendyk
4. Breanna Swan
5. Jazmine Young
Presenter: Kevin Kropinyeri
Organisation: Vibe Australia
BREAKOFF COMPETITION WINNERS
BOYS
1st Jacob Bell
2nd John Russo
3rd Jye Jackson
Presenter: Jason Campbell
Organisation: Vibe Australia

GIRLS
1st Jameelah Lawrence
2nd Katlyn Munday
3rd Brittany Donnelly
Presenter: Amy Minchin
Organisation: Vibe Australia

PUGGY HUNTER AWARD
Name: Tyler Howie
Presenter: Claude Williams and John Millard
Organisation: Vibe Australia and Mingara Leisure Group