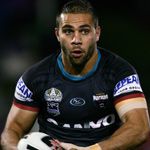 A day of 3on3 basketball, art, music and good health will hit Bateau Bay, when the Vibe 3on3 comes to town 12 March.
Joining the Vibe 3on3 is former Harlem Globe Trotter Dwayne Cross and Penrith Panthers star Maurice Blair.
Young people from across the Wyong Shire and beyond will converge on Bateau Bay PCYC as the area hosts the first-ever Vibe 3on3®.
During the school hours, young people will be engaged in skills training, goal setting and motivational talks together with the active sports sessions to get the heart pumping and creative minds moving.
As night falls, the entire community is invited to a free community barbecue, break-off and disco featuring fantastic talent at the Bateau Bay PCYC.
Aboriginal basketball legend Claude Williams and Dwayne Cross will headline and keep the energetic B Boy Jason Campbell in check as he goes head-to-head with local dancers keen to strut their stuff on the dance floor.
Rapper Lady Lash and DJ Black President will keep the party going between 6pm and 9pm in the alcohol and smoke-free environment.
Executive Producer of the event, Gavin Jones, is excited to be bringing the event to the Wyong Shire for the first time.
"There are a lot of wonderful families living in the Wyong Shire and our event is all about empowering young people and strengthening self-esteem which are powerful starting points for good health and well-being," he said.
The whole family can come for a free barbecue to celebrate the first time the National Indigenous 3on3 Basketball and Hip Hop Challenge – the Vibe 3on3® – has come to Wyong Shire when gates open to the Bateau Bay PCYC at 6pm.
"This is a great opportunity for mums, dads, aunts, uncles and the whole family to come together," former Sydney Kings coach and Black Diamond Claude Williams explained.
"We bring together Indigenous and non-Indigenous people in a fun and family friendly atmosphere that encourages tolerance, empowerment and promotes reconciliation at a grassroots level.
"Everyone is invited and there are many prizes on offer for the Vibe break-off and the evening activities."
Fun Friday is being held in school hours for students and features a 3on3 basketball tournament, rapping and break dancing lessons, art workshops, a dance competition and a health expo, all accompanied by a backing track of the latest RnB, hip hop and Indigenous music.
The Vibe 3on3® aims to promote healthy lifestyles, strengthen communities and boost self-esteem.
The Vibe 3on3® also offers an excellent opportunity for health services and related organisations to introduce themselves to the wider community. For more information go to www.vibe.com.au
The Vibe 3on3® would not be possible without sponsors Rio Tinto Aboriginal Foundation, the Department of Health and Ageing through the Office of Aboriginal and Torres Strait Islander Health and Vibe Australia. Supporters include the Koori Mail, Deadly Sounds and Deadly Vibe.
WHAT: Vibe 3on3® Community Event
WHERE: Bateau Bay PCYC, The Entrance Road
WHEN: Friday, 12 March 6pm-9pm
For media enquiries, interviews or photos please call Mayrah Sonter at Vibe Australia on (02) 9361 0140 or email on [email protected]