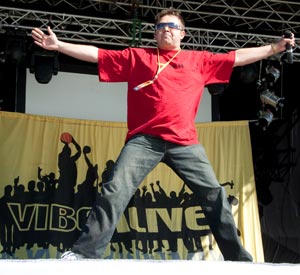 The Moree Vibe Alive Festival just gets bigger and better each year, with over 5000 people attending this year's Community Concert.
VIDEOS
'Hallelujah' | Break-off! "Daniel vs. Dwayne"
Event Producer Mayrah Sonter said over 1500 students travelled from as far away as Sydney (600km away) to attend and compete at the festival.
"This is the second time that the Vibe Alive team have been to Moree and it went off," she said.
"Over 30 schools registered and went all out to compete in the fun-filled event."
Mayrah said a few new elements were incorporated into the event this year.
"This year we introduced dance routines from the impending Move It Mobstyle television show as one of the rounds the children went through. They had an absolute ball and learnt some great dance moves and routines from the amazing dance team of Ghenoa Gela, Sam Carroll and Deadly nominee Medika Thorpe."
Mayrah said this year's Moree Vibe Alive also included an interesting Health Expo on day one as well as a great community concert featuring Hip Hop stars The Street Warriors.
"The Street Warriors are Kamilaroi boys and they had great local support. They were a great highlight of the Community Concert as well as Nathan Foley," Mayrah said.
But Mayrah says the biggest winners over the two days were the children – for their amazing participation during the festival.
"You can tell the kids are starting to get to know how Vibe Alive works because of the level of performance and preparation they put into it this year," Mayrah said.
"The routines were more rehearsed and they had great costumes and props. They were competitive and understood what Vibe Alive is all about and turned up ready to compete."
She praised the efforts of the Moree community in making the Vibe Alive such an amazing success.
"The local committee was amazing, they pulled it all together. We had the biggest number of volunteers that we have ever had. That feeling of community support in Moree was really strong," she said.