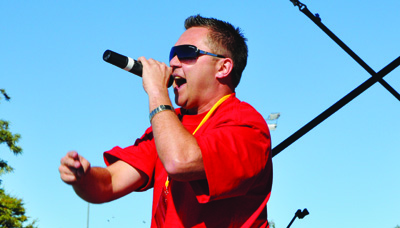 My Country… Newcastle
My name is… Abie Wright
My position is… musician/songwriter and performer in Street Warriors with my brother Wok.
My mob is… I'm born and bred in Newcastle which is Awabakal country but my family links and my mobs are originally Gamilaroi, Anaiwan and Dungutti.
I live in… Newcastle.
The population here is… people say the Aboriginal population of Newcastle is 20,000 to 30,000 but the census figures in 2006 say it's 16,300.
Brief History… The Newcastle Lake Macquarie region is the traditional land of the Awabakal people. Awaba is the Aboriginal name for Lake Macquarie near Newcastle and Awabakal is the name for its original people and language. Newcastle is a big Aboriginal resettlement city in NSW. It's a melting pot of Aboriginal people from all over the state. They brought lots of us from the small towns in regional NSW for work and life opportunities The Awabakal Aboriginal Cooperative Ltd was pivotal in helping many of those blackfellas who moved here in the 1960s to 70s. My father was a part of that organisation in the early days.

Description: Newcastle is a beautiful big city with a country atmosphere on the coast and the Hunter River. We're a coal town, with a big harbour, beautiful beaches, vineyards nearby in the Hunter Valley and coal mines. A lot of people come here to work on the mines or in tourism.
Lifestyle: It's a big country feel lifestyle. It's a city but people all sort of know each other. It makes me feel good to live here. I always come home even if I do a gig nearby in Sydney I'll come home at 4am. Newcastle is a welcoming and friendly city. It's got beaches, shopping centres, bush nearby, a good university and a top of the range hospital. It's got everything and it's a great place to raise a family.