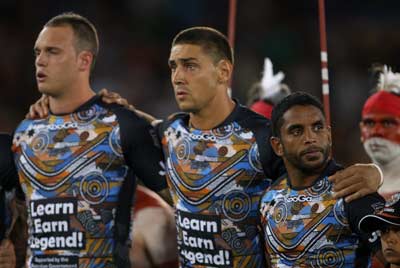 The Harvey Norman Rugby League All Stars will keep faith in its commitment to Indigenous Australians through a Learn. Earn. Legend! All Stars Regional Tour promoting Indigenous education, employment, health, welfare and heritage, announced today.
From January 22-30, the Learn. Earn. Legend! All Stars Regional Tour will visit Batemans Bay, Condobolin, Wilcannia, Walgett and Moree to acknowledge Rugby League's bond with Australia's Aboriginal and Torres Strait Islanders and help showcase the efforts of these communities in supporting Indigenous Australians.
The free event is open to all members of the public who will be able to participate in a range of sporting, arts and cultural activities including Backyard League and Kids to Kangaroos games, visits from Rugby League's One Community ambassadors, BBQs, community stalls and the chance to take their photo with the NRL Telstra Premiership Trophy.
The Tour is taking place with the support of the Federal Government's Learn. Earn. Legend! campaign, a legacy of the inaugural All Stars game which encourages young Indigenous Australians to stay in school and aspire to success in the workplace, as well as helping them make the transition from education to employment.
"The Learn. Earn. Legend! All Stars Regional Tour will take the passion, pride and community spirit of the All Stars to the wider community," NRL Chief Executive, Mr David Gallop, said.
"It is a reminder of the diverse range of communities and causes Rugby League is involved with, from flood relief to the mining community in Greymouth, New Zealand, to closing the gap between Indigenous and non-Indigenous Australians.
"The Tour is a chance for regional NSW to be a part of the All Stars experience and of Rugby League's commitment to supporting Indigenous communities across Australia.
"It will also provide these communities with a platform to highlight their own Indigenous programs and achievements and to inspire local children to make good education and employment choices through the Learn. Earn. Legend! message."
Minister for Sport and Minister for Indigenous Employment and Economic Development, Mark Arbib, congratulated the NRL for showing leadership in Indigenous communities.
"The Learn. Earn. Legend! program uses sport and sporting role models to encourage Indigenous children and teenagers to stay at school and go on to get a job," Senator Arbib said.
"We know the best thing all kids can do is get a good education. The more education a person has, whether that be finishing year 12, completing a TAFE qualification, an apprenticeship or a tertiary qualification, the more likely they are to get a good job and take care of their family."
The Learn. Earn. Legend! All Stars Regional Tour will kick off at Batemans Bay on January 22 before making its way to Rugby League and Indigenous communities across the state in a journey spanning some 2,000 kilometres.
Each of the five communities involved has also been invited to produce a local Indigenous artwork on a giant canvas, to be displayed centre-field at the Harvey Norman Rugby League All Stars game, at Skilled Park on the Gold Coast, on February 12.
"The town of Condobolin and its neighboring towns are very excited that the All Stars Regional Tour is coming our way," CEO of the Wiradjuri Condobolin Corporation and former Balmain and Canberra player, Percy Knight, said.
"The Tour will be a great opportunity for the kids of the region to experience first-hand some of the things they love about Rugby League and also be represented at the All Stars game through the local Indigenous artwork.
"Our kids look up to Rugby League players as their heroes and this Tour will help inspire them to chase their own dreams of becoming quality people in their own right."
The NSW community of Wilcannia will celebrate a special arrival of the Tour, which will make its way to the town in time for Australia Day.
"This is a very positive initiative for our community and we are delighted to be involved and working with Rugby League," Maari Ma Health Aboriginal Corporation representative, Nola Whyman, said.
The Learn. Earn. Legend! All Stars Regional Tour will visit the following locations, with events taking place from 4:00pm-7:00pm AEDT at each location.
January 22 Batemans Bay, Mackay Park (launch event)
January 24 Condobolin, Wiradjuri Learning Centre
January 26 Wilcannia, Bourke Oval (Australia Day event)
January 28 Walgett, Walgett #1 Oval
January 30 Moree, Boughton Oval
The Tour was scheduled to also visit the Queensland towns of St George and Roma. However, due to the current flood crisis, in consultation with the towns these visits have been postponed and will be rescheduled to take place after the All Stars game.