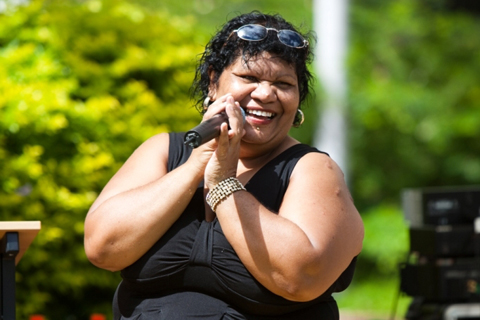 The children know her as "Aunty Viv" and anyone who follows her music knows she doesn't back away from
writing and singing about the important stuff.
Singer/songwriter Viv Edwards has taken a powerful message on domestic violence and put it to words and music for her latest single 'No Way'. It's a song about the impact of domestic violence on children.
"'No Way' came to me at home in Mt Isa," she said.
"In our area we have a high rate of domestic violence and I am seeing and hearing it in the streets, whether that is through someone coming to my house to ring the police or through the children.
"And it's the children who are the silent victims of domestic violence," she said.
Viv didn't set out to use her talent for music to raise awareness on domestic violence. The opportunity just found her through her work in childcare and singing at concerts for various charities.
She was singing at the opening of an Indigenous Support Unit in Mt Isa when she was approached by a domestic violence service worker who asked her to "come for a drive".
That drive ended up as a domestic violence roadshow that travelled to communities in Queensland and is now an annual event. Viv does the singing to raise awareness and draw the crowd
in and, over a free sausage sizzle, people talk and listen.
"Music is a universal tool. It can get you to places other people can't get to. We plant seeds and hope that people go away with the message," Viv said.
Domestic violence affects everyone. It doesn't discriminate, Viv said and, "If you live through domestic violence, you don't forget it."
'No Way' makes it clear that "it's not our way" and is a message from children of domestic violence to their parents.
"Most children who grow up with domestic violence think it's a normal way to behave and it's important to try and break the cycle by showing them that it's not OK to hurt your brother or sister," Viv said.
"In the song, the children are saying 'what about us', 'why should we have to hide away' and we use the children's point of view to get the message to the parents and to try and break the cycle for the kids.
"If you don't break the cycle then they grow up repeating it."
'No Way' is starting to make waves for Viv. The song was funded by the Australian Government's 'Communities for Children' initiative, which is delivered by Centacare in Queensland.
"The lyrics are having an impact and now we are thinking about making a video clip," Viv said.
'No Way' is only part of Viv's songbook. Born in Innisfail, North Queensland, Viv started singing as a child surrounded by her family singing to the tunes of the box guitar and being raised on Gospel. Nowadays, she describes her songs as "soul ballads".
"I write about what's happening in my life and what's happening around me. Music has always been there for me," she said. "It's a natural thing and not taught."
Viv is well known in the Mt Isa area, working continuously in the clubs, pubs, surrounding communities and mine sites.
She likes Mt Isa but tries to get home to Innisfail about once a year. It helps keep her in touch with her roots.
"I always say I am a rainforest girl living in a desert, but I wouldn't have it another way. Mt Isa is a multicultural place and friendly."
Viv has two albums out and now the single 'No Way. Her songs can be heard on radio stations around north Queensland and the Northern Territory. To find out more about Viv, go to www.myspace.com/edwardsvive