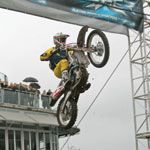 Having conquered the world Supercross circuit twice, Chad Reed has returned to home to Australia to take motor sport to a whole new level.
It was touted as the most amazing finish to a world Supercross series yet.
Only three weeks after breaking his shoulder in a crash during practice, Chad Reed needed to finish within six places of Championship rival Kevin Windham at the series final race in Last Vegas to clinch his second world title.
Mustering all of his mental toughness and skill, Chad rode through the pain to win the race and the series, delivering Australia its latest motorcycling world championship.
Not bad for young fella who grew up riding bikes on his family's property in Kurri Kurri, country NSW.
"This really is a dream come true," said an emotional Chad at the end of last month's race. "There have been a few bumps along the way, but the ups and the downs are what you work hard for.
"A lot of people questioned how hurt I really was. Unfortunately, I spent the entire day at the hospital with the broken scapula. I had been there before (an injured shoulder) but this time I couldn't really get rid of the pain."
"You have to fight to the end. That's why it's a championship."
Having conquered the world once again, Chad quickly realigned his sights on a new challenge – an endeavour into which he has invested the same type of passion and commitment that has seen him become a world champion twice over.
Earlier this month, Chad returned to home soil to launch the inaugural Australasian Super X series, a project being driven by himself and events promoter Mike Porra. The two are spending $5 million of their own money to establish the new series.
Flanked by fellow Australian Supercross riders Ryan Marmont and Craig Anderson, Chad put on a show for media and fans at Sydney's Darling Harbour to launch the series, displaying some of the exhilarating racing and heart-stopping jumps that have made motorsports so popular in the States
The high octane launch of the new series was a good indication of what Australian race fans can expect from the upcoming series, set to launch in Perth on October 4.
"The new race formats break tradition and really shake up the sport," Chad says. "They'll make for faster, more cut-throat, exciting and competitive racing, like nothing seen before, anywhere on the planet.
"Super X will raise the bar worldwide. I know there is growing interest from the US-based competitors in the series and to have some high-profile riders travel Down Under to take part will be awesome for the sport and the fans."
The Super X series will be a super-charged version of the American Supercross and Chad is confident that it can eclipse VA Supercar racing as Australia's number one motor sport.
The high intensity and adrenaline-fuelled series will combine world-class riders, expertly-designed international tracks, innovative new race formats, live television coverage and a spectacular entertainment package.
The overhaul of Supercross begins with four all-new revolutionary race formats that pit riders in a bar-to-bar battle to the chequered flag – Super Sprint, Man-on-Man, Survival and The Triple Challenge.
Tracks will be custom-designed and built for each venue, with internationally renowned American designer Mark Barnett set to create full US-style tracks for the first ever time in Australia.
While Chad may have spent the large part of his adult life in America, the country that has made him a star, he remains as down-to-earth and as fiercely proud to be Australian as he was on the day he left his Kurri Kurri home to chase his dreams.
He sees the foundation of the Australian Super X series as his way of giving back to the sport that has made him an international superstar, as well as one of Australia's highest paid sportspeople.
With plans to eventually migrate the series into Asia, Chad has his sights set on a complete revolution of motorcycle racing, not just in Australia but across the world. And then there is his own career and world championship to defend next season.
"It has been a dream of mine for a very long time to turn Supercross into a mainstream sport in Australia," Chad says. "It's a great feeling to be able to give back to the sport that has given me such an amazing career."