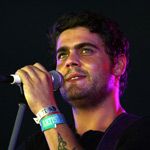 Deadly Vibe Issue 154
December 2009
With a new album, a role in a feature film and a packed touring schedule ahead of him, Dan Sultan's career is about to shift into overdrive.
Sometimes, early success can be a real career killer, especially in the music industry where one-hit wonders are the norm and countless acts start off with a bang only to fade into obscurity. So when Dan Sultan rocketed to stardom on the back of a superb debut album three years ago, amid all the back-slapping and industry kudos, he played it cool.
He hit the road with a new band, blowing the socks off audiences at just about every major Australian music festival.
It wasn't until this year, in fact, that he and the band found time between gigs to visit the studio and record Dan's second album, Get Out While You Can. The album has just hit stores, triggering more rave reviews and claims that Dan Sultan is 'the next big thing' in Australian music.
In his typically laidback and humble fashion, Dan is taking his growing status on the Australian music scene one day at a time.
"You just take it with a grain of salt really," says Dan, responding to the ever-mounting hype surrounding his career.
"At the same time it's a compliment, but I'm realistic about it. It's encouraging, because this is what I want to do, but at the same time you know that when you put yourself out there, people are going to say you're amazing and other people are going to hate you, so you don't take it too seriously, just remember who your family and friends are and just keep it simple."
The son of an Aboriginal mother and Irish father, Dan grew up in North Melbourne, spending time between his mum's place in Fitzroy and his dad's in Brunswick.
"When I was a little kid, I remember my mum had some mates in a rockabilly band that used to play at this cafe called the Black Cat in Fitzroy," he recalls.
"They'd be playing afternoon sessions and I remember watching the lead singer and thinking he was one of the coolest people in the world. I thought, 'That's what I'd like to do.'"
Dan began writing songs at 10 years of age (none that great, he says), and by his teens was playing in local punk bands.
Around 10 years ago, he struck up a friendship with guitarist Scott Wilson at a bar in Williamstown, and the seeds for his first album, Homemade Biscuits, were sown.
Despite the success of the debut, Dan opted against rushing straight back into the studio and also turned down several major labels, preferring the freedom of complete autonomy over the direction of his career. He preferred to follow his instincts, rather than being dictated to by any label requirements, and when the feeling was right, he headed for the studio.
"I think we got a bit lucky with this second album," says Dan. "It wasn't that classic difficult second album to make. We kind of went in there, we knew what we wanted to do and we just did it."
While Homemade Biscuits was recorded and produced entirely by Dan and Scott, a whole band joined Dan at producer Jonathan Burnside's studio in Melbourne for the recording of the new album. They also used vintage equipment to achieve a warm and authentic sound.
"If I had my way, Homemade Biscuits would have been just as big and well-produced as Get Out While You Can, but at the same time I'm really proud of Homemade Biscuits and I love it. This time around we had a few more options, and having the band was the biggest difference."
Traversing the borders of country, soul, blues and rock'n'roll, Get Out While You Can is full of hard-luck stories and offbeat romances.
Themes on the album run the gambit from domestic violence to homelessness, from being locked up to having your guitar stolen by a friend on drugs.
"Well, I enjoy films and books that are about that kind of stuff, so as a writer when I create that's what I tend to go towards," explains Dan. "I think primarily they're all love songs, but they can come from strange places. They're stories that are around, but ones we don't really get to hear because of the negative side to them."
A good example of that is Old Fitzroy, a track named after the inner-city Melbourne suburb where Dan grew up.
"Old Fitzroy is about someone who's living that kind of life where they don't really have a voice," says Dan. "I grew up in Fitzroy, and it's just something that I've observed. It's not about me or anyone I know in particular, it's about an old man on the street who's a guitar player, a poet and a songwriter, and no one gives a stuff about him.
"The song called Get Out While You Can is about a couple who sell their wedding rings to escape a war-torn country, so they give everything they have to smugglers. They can only afford one ticket, so the husband sends his wife – that's a love song – they're stories that sometimes may not be heard."
While it may be three years since his first release, Dan's regular touring ensured he didn't slip off anyone's radar, and the reputation he and the band have built for outstanding live performances meant his next release was eagerly anticipated.
"Well this is all I do you know, so if I don't do it I can't pay the rent," he says in reference to his busy touring schedule. "I'm single, I don't have any kids, so I can just go. It's actually pretty hard to be in a relationship when you're in a band, it makes a few things hard, but this is the choice I make."
Highlights have included the recent live set at WOMADelaide, a performance in London earlier this year with The Black Arm Band, and then of course, there are Dan's standout performances at the Kev Carmody and Paul Kelly tributes, which he was specially invited by both artists to be a part of.
"It's very humbling," says Dan, describing the acknowledgement from two of the country's biggest music icons.
"And I think you can either go one of two ways, you can get a bit smart and think that you're pretty grouse, which is probably understandable and some crews might do that, but at the same time, personally, I was pretty nervous!" he says laughing.
"I really wanted to make sure I did a great job, you know what I mean? For me it's very humbling – it's an honour."
On top of the stellar guest spots, Dan also landed his first film role in the Rachel Perkins directed musical Bran Nue Dae – in cinemas from 14 January – where he joins the likes of Deborah Mailman, Ernie Dingo, Jessica Mauboy and Geoffrey Rush.
With all of that, Dan could perhaps be forgiven for thinking he was 'pretty grouse' after all, but instead, the 26 year old remains incredibly grounded. Whatever may come from here, he'll just keep it simple, let things happen and, in his own words, keep on winging it.
"I don't want a pink Cadillac or to be rolling around in some fancy car. That's not why I'm in this," he says.
"I'm in this to give it a nudge and try to be a positive element out there because I think, as humans, if we can just try to bring a positive element in our own scene as much as we can, then were doing pretty good. That's all we can do, you know? But I think we've got to give it a crack."
For details of Dan's current national tour, see www.dansultan.com. The new album Get Out While You Can is available now.